Hellooooo BNE! How my Meanjin follks doin? Hope you're good, keeping safe, finding the little joys in life, eating delicious meals and finding time with ya friends!

This past week has been an insanely good week of radio imho. After the marathon of live-in-studio artists that was Sounds Like Community Radio, out of that pot of gold spilled out the most incredible hour block of radio I've heard: the live cypher from Flyboy Jack (more on that below!) and a Right Here Right Now performance from local legend and Quandamooka man Ethan Enoch (where I got involved in sweat-inducing. - Matt
🔥 CRAAAAZY live cypher on Pass The Aux! 🔥
Courtesy of FLYBOY JACK and crew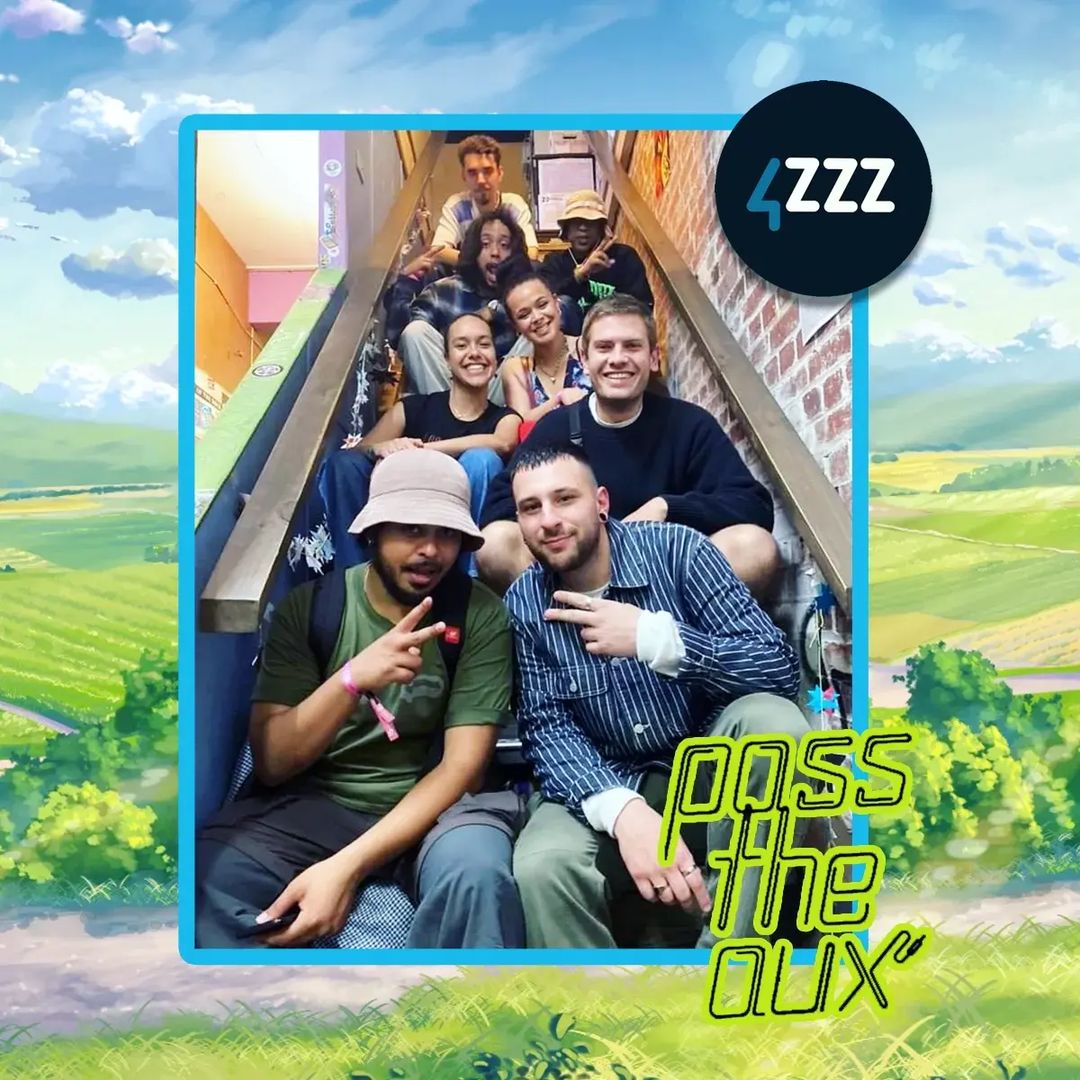 I'm sooooooo happy this happened!
So, last week on 4ZZZ's premier hip-hop and R&B show Pass The Aux, welcomed Jordan Dennis and JUJO from FLYBOY JACK for (for my money) the best hour of radio I've heard this year!

At timestamp 58:00 they kick it off with a marathon live in studio set from, THEN at 81:00 minutes, Flyboy Jack bring in a whole crew for a back-to-back 30 minute cypher (that's a rap battle for the uninitiated). Serious this was worth a million, and way more than the price of admission (free! coz it's radio!)
How did this all happen? As you might know, last week during the heartwarming and bu-zay Sounds Like Community Radio celebration, we brought in a stacked line-up of artists performing in the studio and live to air - one of which was Indigenous rapper Dallas Woods (known also from ABC Kids' Move It Mob Style!), was backed up by his Flyboy Jack crew, who loved the vibes at 4ZZZ, they swung back round 2 days later, last Thursday, to step into Pass The Aux. Yeeeees 🎛
Pass The Aux: Meanjin/Brisbane's best damn hip-hop R&B radio show.
Listen back now! And tune in for another ep of Pass The Aux! tonight at 10pm
Re-live that daaaamn good Tuesday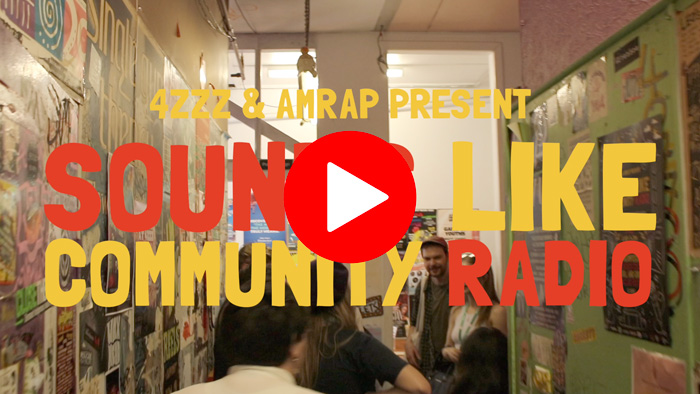 Did you catch it? Did you miss it? Yeah, last Tuesday all kinda community radio folks from across the country gathered at 4ZZZ for Sounds Like Community Radio, and it was a f*king rad time with so many artist, and the community of 4ZZZ vollies that I love, coming together to party!
Lucky for you, vollie Bella filmed some of the going-ons, and also there's a bunch of fun snaps coming from Rani and Lydia!
ETHAN ENOCH on RHRN and I'm wondering how this hasn't happened yet?!
(but I shed a tear of joy that I was there for it!)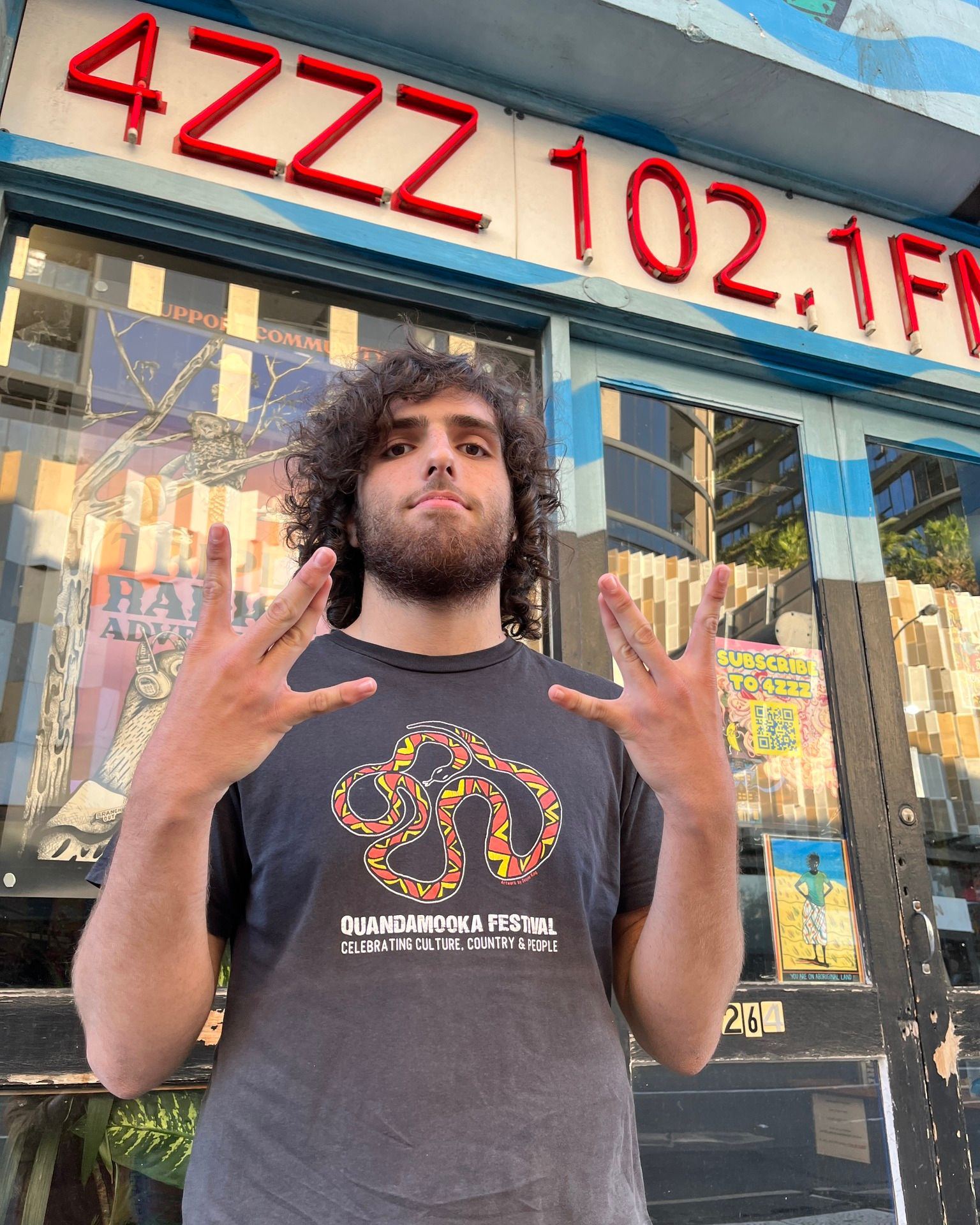 I'm gonna let you in on something, I've never DJ'd in my life... that little factoid doesn't sound relevant, but it will soon. Anyway.
On Right Here Right Now this week, we welcome a Quandamooka legend, poet and rapper Ethan Enoch for our live studio session series! Ethan brought the goods, with nuanced depth, excavating his First Nations heritage in the form of hip-hop gold.
Though, twist, Ethan was down a DJ. I wanted Ethan Enoch x 4ZZZ to happen so bad that I went and did a intense crash course in DJing, courtesy of 4ZZZ's tech manager Pat, and was able to provide Ethan's backing with no hitches. Wooohoooo! Fun day, crazy day, what an honour, thanks for trusting in me Ethan!
Watch the performance back at 4ZZZ's Twitch channel, on Instagram, or listen back on our website!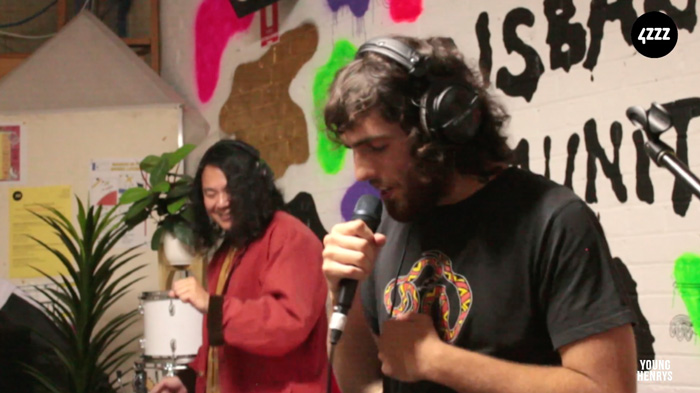 Writing a Novel Program Scholarship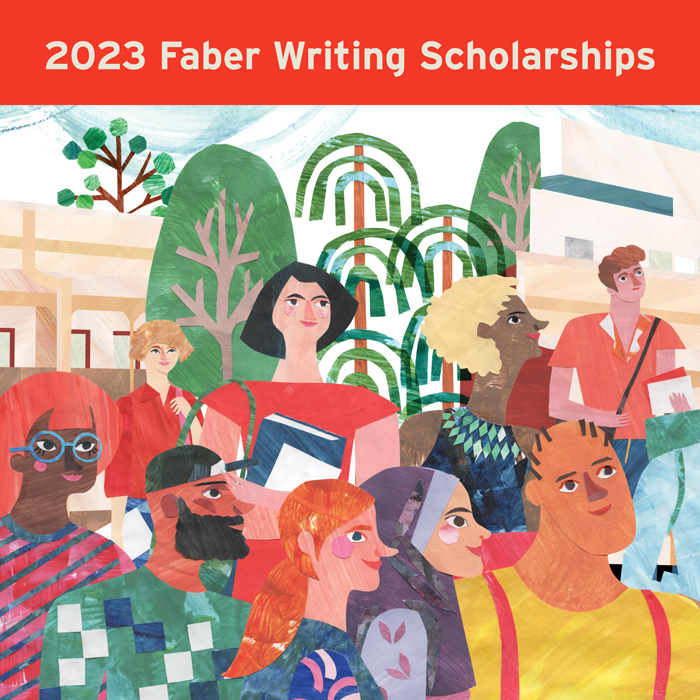 Each year the Faber Writing Academy at Allen & Unwin awards scholarship places for our prestigious Writing a Novel program. Scholarships are open to anyone and offer the recipient the chance to study for free.
Presented by Australia's leading independent publishing house Allen & Unwin, in partnership with the prestigious UK publisherFaber & Faber, Writing a Novel is a highly practical, craft-focused course designed to help writers find the focus they need to stay the distance and finish a manuscript draft. In 2023, one scholarship place will be reserved for a Brisbane recipient. Learn more at faberwritingacademy.com.au.
Tom Grennan at The Triffid
Tom Grennan, the UK's breakout star of the year, is heading to Australia in September 2022 and he's all set to share a "Little Bit of Love" with fans in Brisbane, Melbourne and Sydney.

Don't miss your chance to see Tom Grennan's first ever Australian shows at THE TRIFFID
Moonage Daydream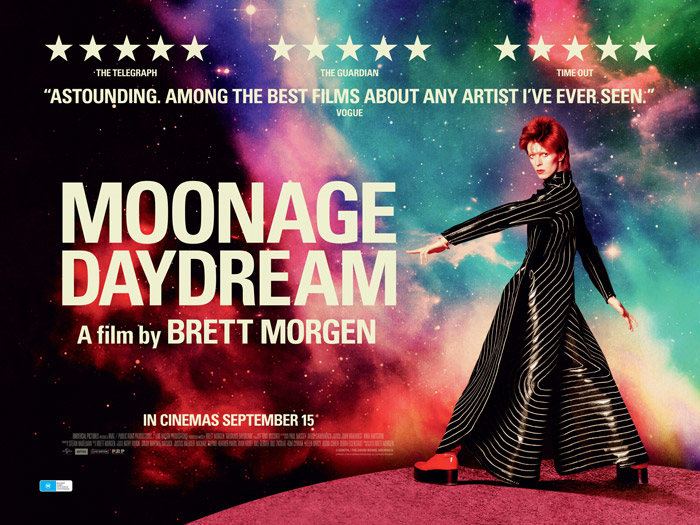 New Farm Cinemas has 5x Double Passes on offer for Moonage Daydream, an audio-visual space odyssey from Oscar-nominated filmmaker Brett Morgen. Festivities kick off with our Ziggy Stardust dress-up opening night, filled with drinks, dancing, and door prizes, taking place Thurs 7 pm September 15.
Double Passes are redeemable at New Farm Cinemas for any showing of Moonage Daydream, including our opening night event and screenings in our premium Gold Rooms!
Don't miss this cinematic experience that illuminates the enigmatic legacy of David Bowie - book your tickets here now.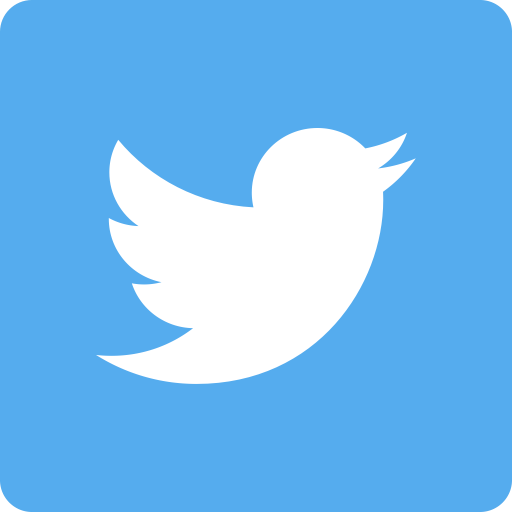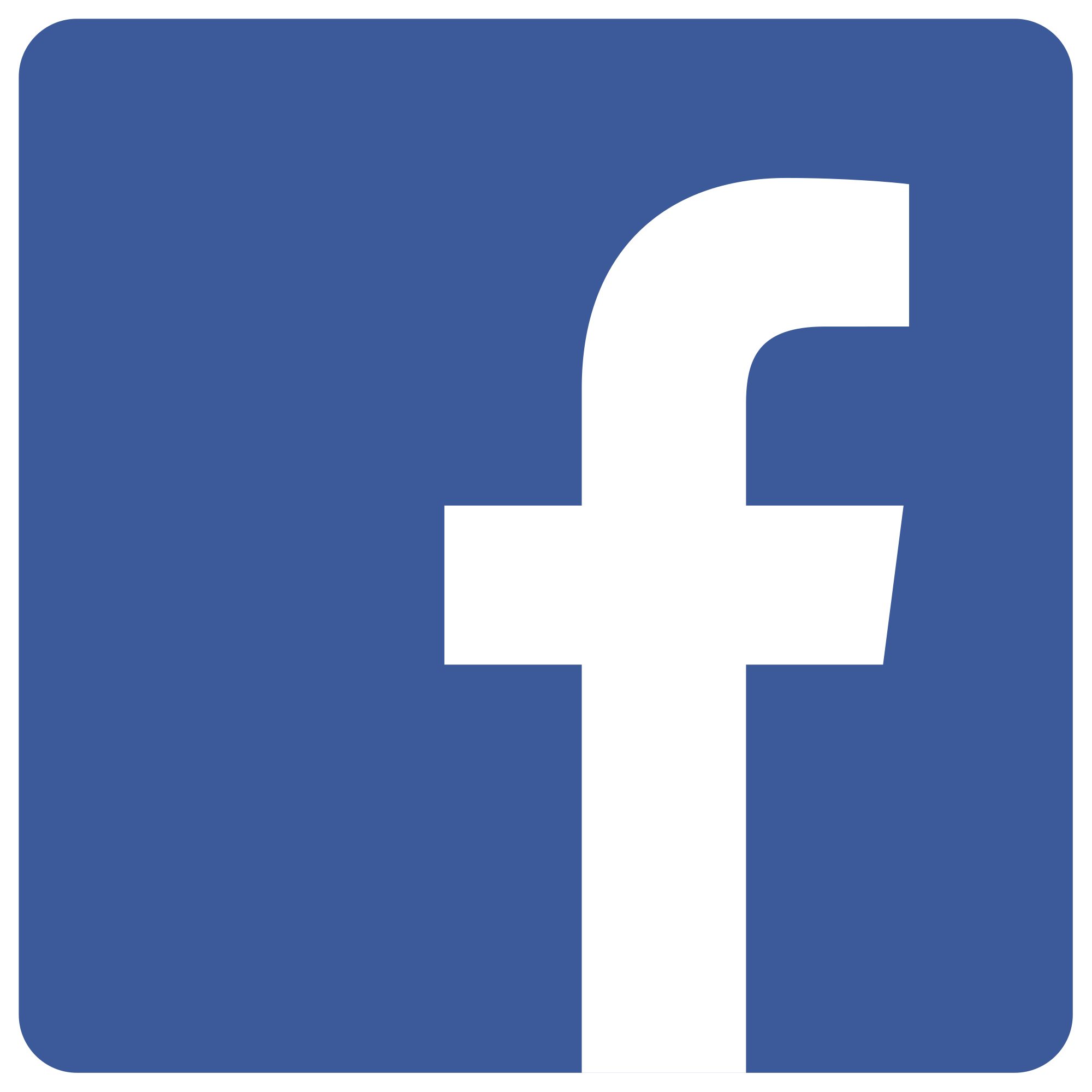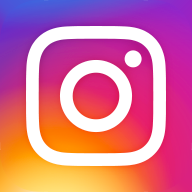 That's all for this week, be sure to check your inbox next week for the next instalment of Zedletter!
For more information hit 4zzz.org.au

[[UNSUBSCRIBE]]
Respectfully acknowledging the traditional owners and custodians of the country on which we live and that their sovereignty over this land was never ceded.