Welcome to the next episode of Zedletter!

This week's is CHOCK full of the REAL HUMANS of 4ZZZ, which is the kind of thing I love - because that's the core of what this place is, passionate humans coming together to do create a thing they care about!

We have unofficial awards, shining light on unsung station heroes and a veeeeery super heartwarming milestone... because we're celebrating 30 YEARS OF QUEER RADIO!

quick mafs, 30 years = Queer Radio started in 1992! Which, at least to my old-ass, doesn't seem like that long ago. wth!
🌟🌈 30 YEARS OF QUEER RADIO 🌈🌟
Damn right, we just celebrated 30 YEARS OF QUEER RADIO!
That's...
🌈 30 years of being a megaphone for marginalised (and in the scheme of things, very recently illegalised voices) LGBTIAQ+ community!
🌈 30 years of media representation for gender diverse and non-conforming folks in Meanjin and beyond
🌈 30 years of discussion, advocacy, news, music, arts and tons of joy and fun!
Listen back to the incredible jam-packed show that welcomed Meanjin/Brisbane now London singer-songwriter TIN with his new single and video "Chasing Highs", welcomed back for a special visit, former co-host, Sharon Mulhearen with her daughter Kaelin and a bittersweetly piece of news that brings us to our next story...
🏴‍☠️ Safe travels to our beloved Paulo DaCosta! 🏴‍☠️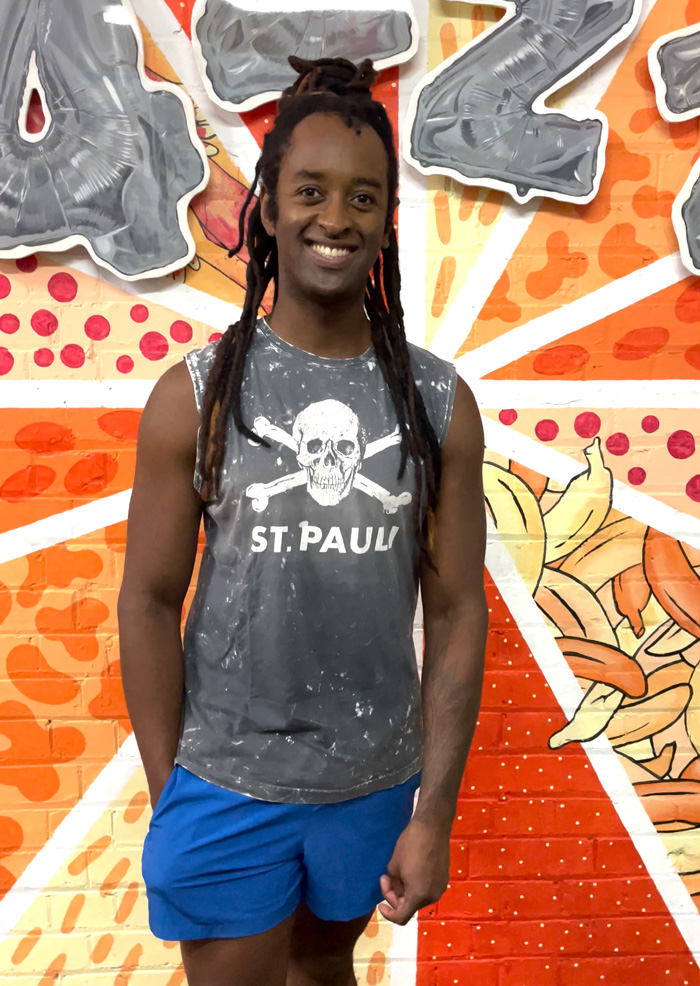 ❤️ Bittersweet news came along with yesterday's Queer Radio's 30th Anniversary Episode!
Our beloved show co-host, Paulo DaCosta had their last show last night, and is headed off to Kaurna/Adelaide this weekend to start working working life after graduating! Thank you for 4 years on Queer Radio!
Listen back to Paulo's final Queer Radio episode from yesterday!
In the fluffy silver lining, Paulo will continue to host Zed Digital's Amor Negro 9-10pm on Tuesdays!
📻 30 years of broadcasting at Barry! 🖌
(yes, literally two 30ths in the same week!)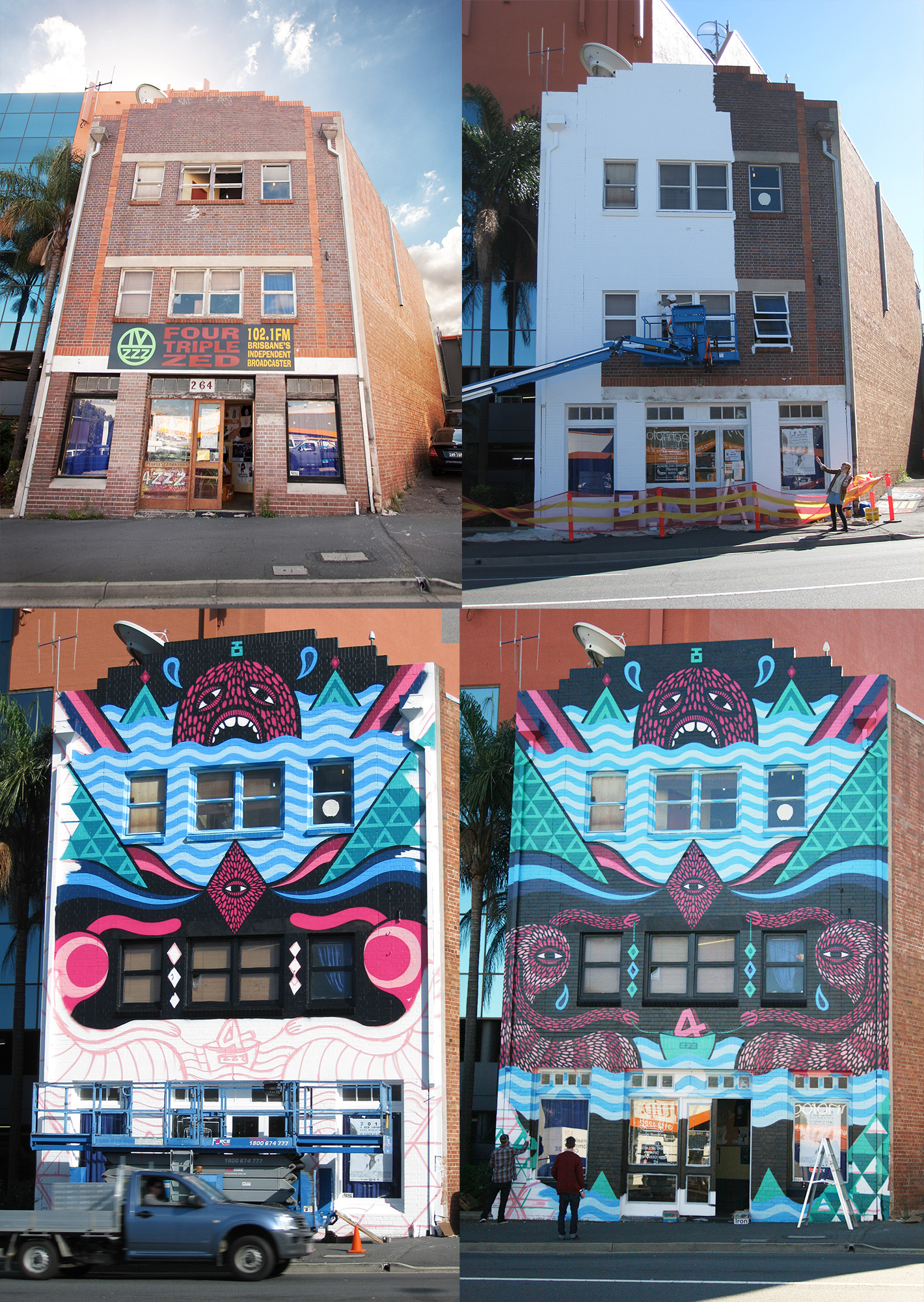 In ANOTHER 30th Anniversary (nuts!) tomorrow is 30 years of broadcasting from our Fortitude Valley station, affectionately known as "BARRY" ❤️‍🔥
Here's a little peak into history, in 2010 when street artist Beastman painted the town Zed! It's not quite 1992 history, but still a cool slice of Barry's past.
There's also this sweet video timelapse of the facelift!
🥷UNSUNG HEROES OF ZED:
Chaelee Edition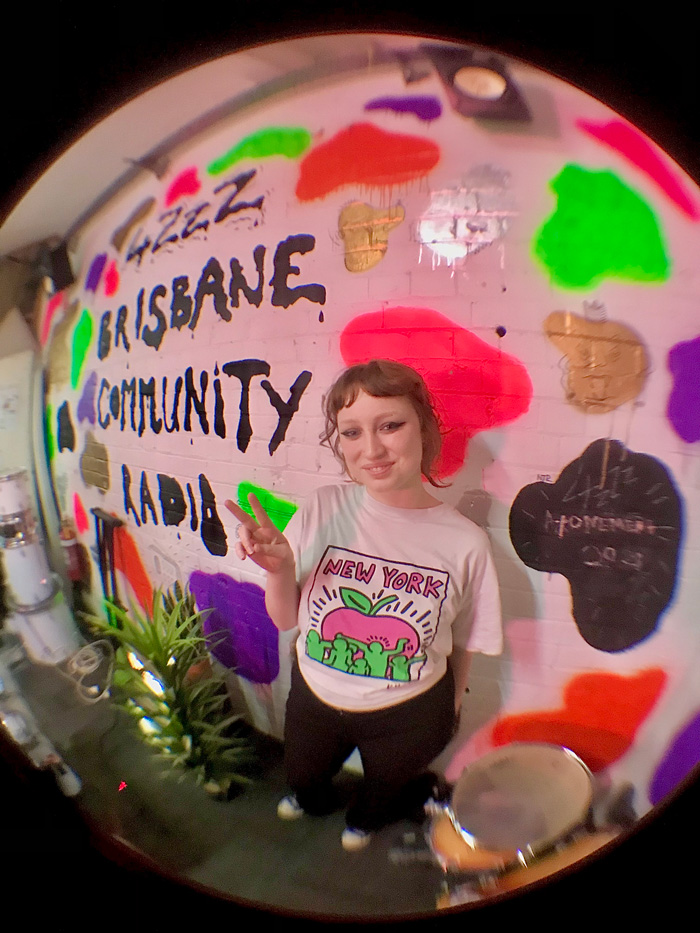 Welcome to a new little segment of the Zedletter called UNSUNG HEROS OF ZED! where... it's self-explanatory- we shine a little light on the amazing humans of 4ZZZ that you might not hear on air or see pop up in videos too often!
Recently I asked Chaelee (she/they) to punch my hand, I can't remember why, but it HURT. SO. MUCH. and that fully encapsulates the full 100% blood Chaelee puts in to everything they do.
Chaelee is one of the unsung behind-the-scenes heroes of 4ZZZ, doing sound production and live mixing for our live shows and Right Here, Right Now.
EVIL ZED 4ZZZ Halloween Party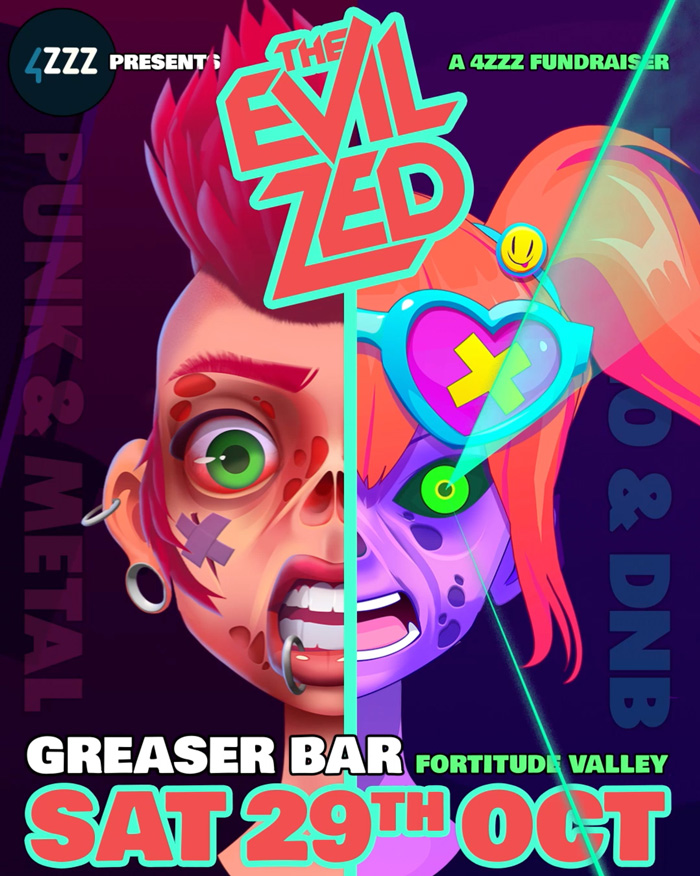 🎃 Halloween time is almost almost upon us, we're celebrating the Zeddest way possible...
👻 Come spend the spooky season at 4ZZZ's EVIL ZED party at Greaser Bar, Saturday 29 October. Bring ya ghouls to our multi-genre fundraising event coz we're coming in heavy! Starting at 3pm and running until 2am it's bringing out the extremes. Two stages will host everything from Punk, Thrash, Metal to Techno, Bass, Hardcore and DnB.
Tix $20 for 4ZZZ subscribers and $25 for everyone else. Limited capacity.
🧟‍♀️😈🤡🕸⚰️
Murderous lineup curated by PUNKFEST & 4ZZZ's Brisbane Drum n B4zzz Show & Electric Crush. Come along for an amazing Halloween party. They'll be prizes for best dressed, so don't hold back!
In The Greaser Bar:
THE QUICKENING / The TOXIC GARDEN GNOMES / RUINED STATE / PHD! / EVICTION / CURSED EARTH / THE SNOUTS / COPIUS / VIOLET / Plus DJ JUDY JETSON playing all those kooky Halloween tunes in between bands.
In The Garage:
DIGITAL (UK / Only Brisbane appearance) / DAUNTLESS / BACCUS HARSH (XIAN) / MIKMAC VS SYNONYMIX / SAMp3 / NAM SHUB / HallucinoJENic vs CARDIAC ARREST / SNIFFER DOG / SLK! (Renegade Playground) / B ROCK 'N RADLEY
🏆 The Unofficial 4ZZZ Awards 🏆
aka the Bella and Egg awards ☺️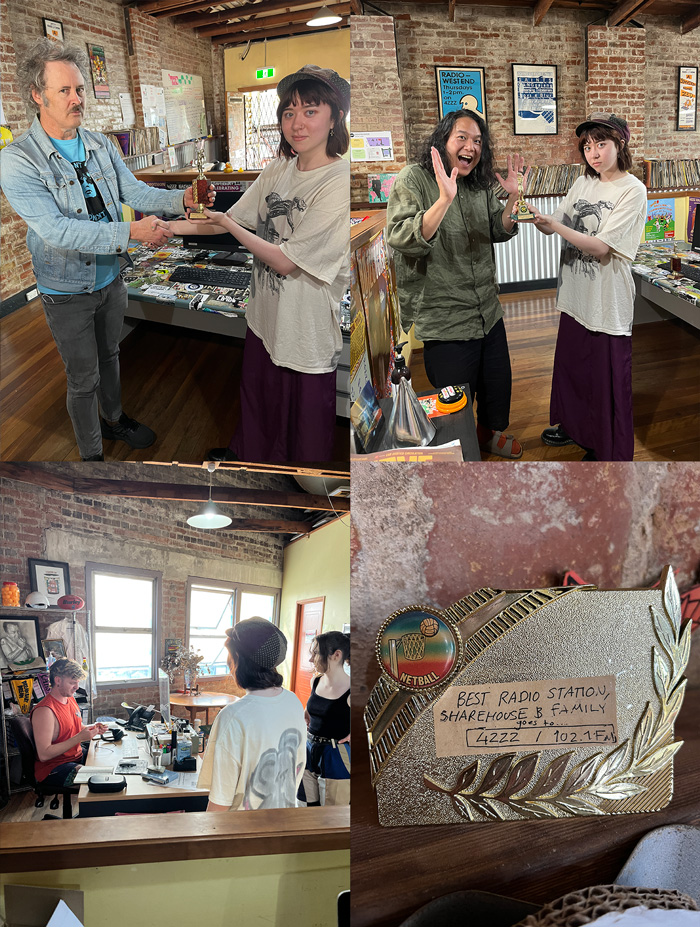 It's DIY trophy season at 4ZZZ
(mostly because Bella and Ag, our magic Zed humans decided it was
)
Ian took out the 'Funniest Guy Award', Matt took out the 'Happy Sunshine Joy Award', and Stocky received the 'Best Radio Station Sharehouse & Family' award on behalf of the station!
Thank you two-person panel of Bella and Egg! "You love us, you really really love us!"
More awards to come this season...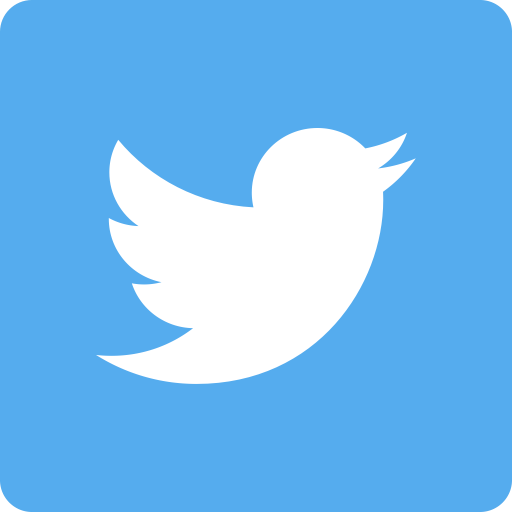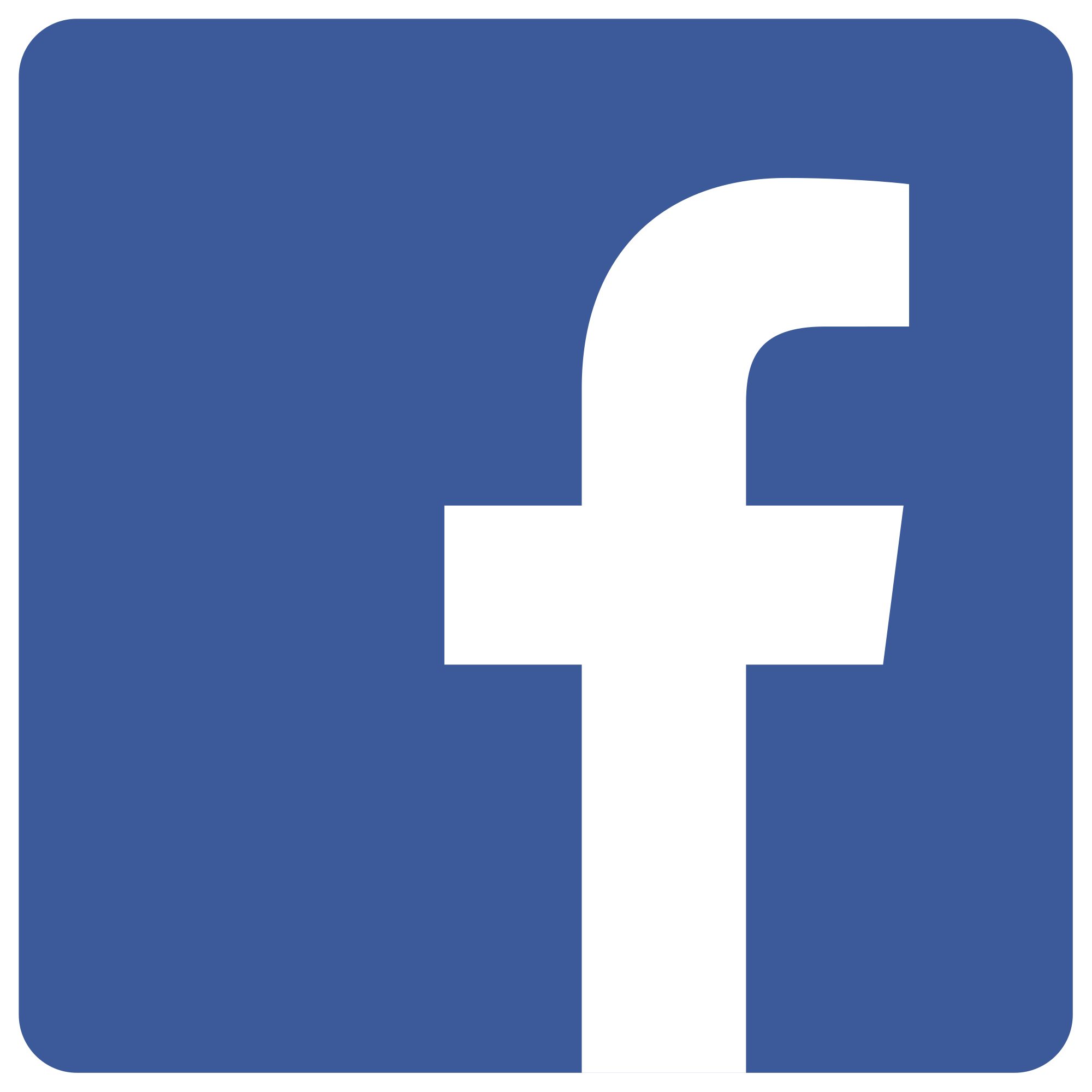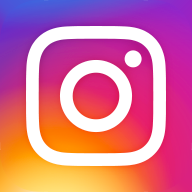 That's all for this week, be sure to check your inbox next week for the next instalment of Zedletter!
For more information hit 4zzz.org.au

[[UNSUBSCRIBE]]
Respectfully acknowledging the traditional owners and custodians of the country on which we live and that their sovereignty over this land was never ceded.