🧙‍♀️ April Atonement | Support What You Love❤️
The first couple of weeks of April Atonement have just FLOWN BYE 🧹 and I have to say it's been heartwarming to see the subscriber lights flashing in the station. Whether you're catching up on a lapsed subscription or it's your first time, thank you so so SOOOOO MUCH!
In case you didn't know, if you are already a current Zed Coven Member 🔮 you can still subscribe as much as you want because THEY STACK! That means when you subscribe an extra year will be added to your current subscription and you can continue to extend indefinitely!
Pretty sure my cat Fang will be subscribed from beyond the grave at this stage! 😹
I CAN'T RESIST THE PET TAGS!
To subscribe and see all the potential prizes you could win CLICK HERE!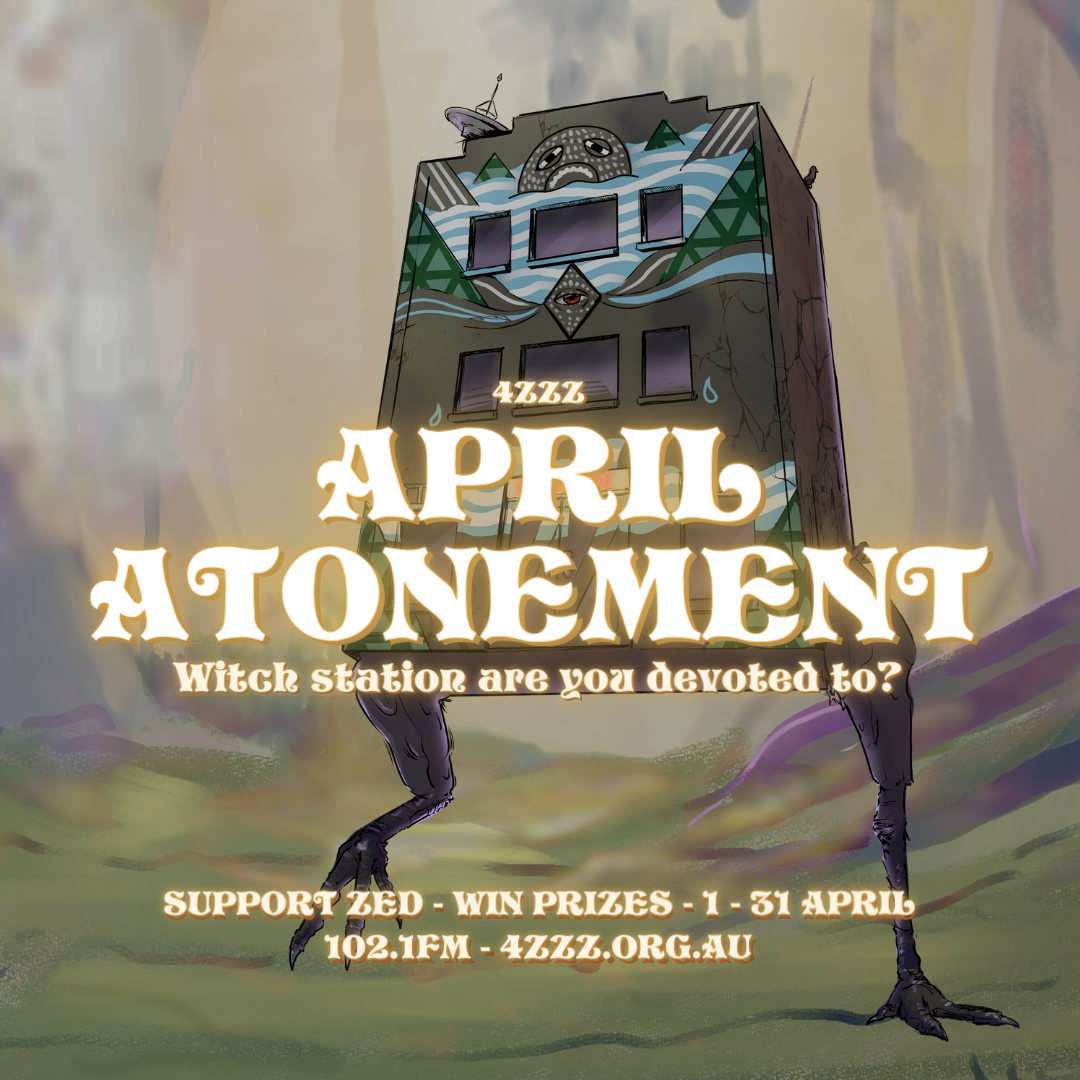 📻 Locked In | Daria 😻

TRIGGER WARNING: This post may be triggering for victims of crime.

"This piece of artwork, submitted by Locked In listener Daria, matches our witchy theme for April Atonement perfectly. Nobody knows atonement like the listeners of Monday nights Locked In program, or the importance of connection to community and culture. Music and art can help us to explore our own path, connect to ourselves and each other, and to manage our mental health during the best and worst of times."

"The Locked In show airs Monday from 6-8PM, reading letters from prisoners locked up in SEQ jails and texts from their family on the outside. The legacy of prison programming at 4ZZZ began 40 years ago with a piece of artwork, and continues today with the 100th piece of artwork from listeners to be hung in the stairs at the station this month." - C.J. Locked In Announcer and Zed Legend.

If you think shows like Locked In matter, please consider subscribing to 4ZZZ to show your support. Click the link.

Here is Daria's drawing of a witch in purple with bright orange hair and a purple cat, riding a broom.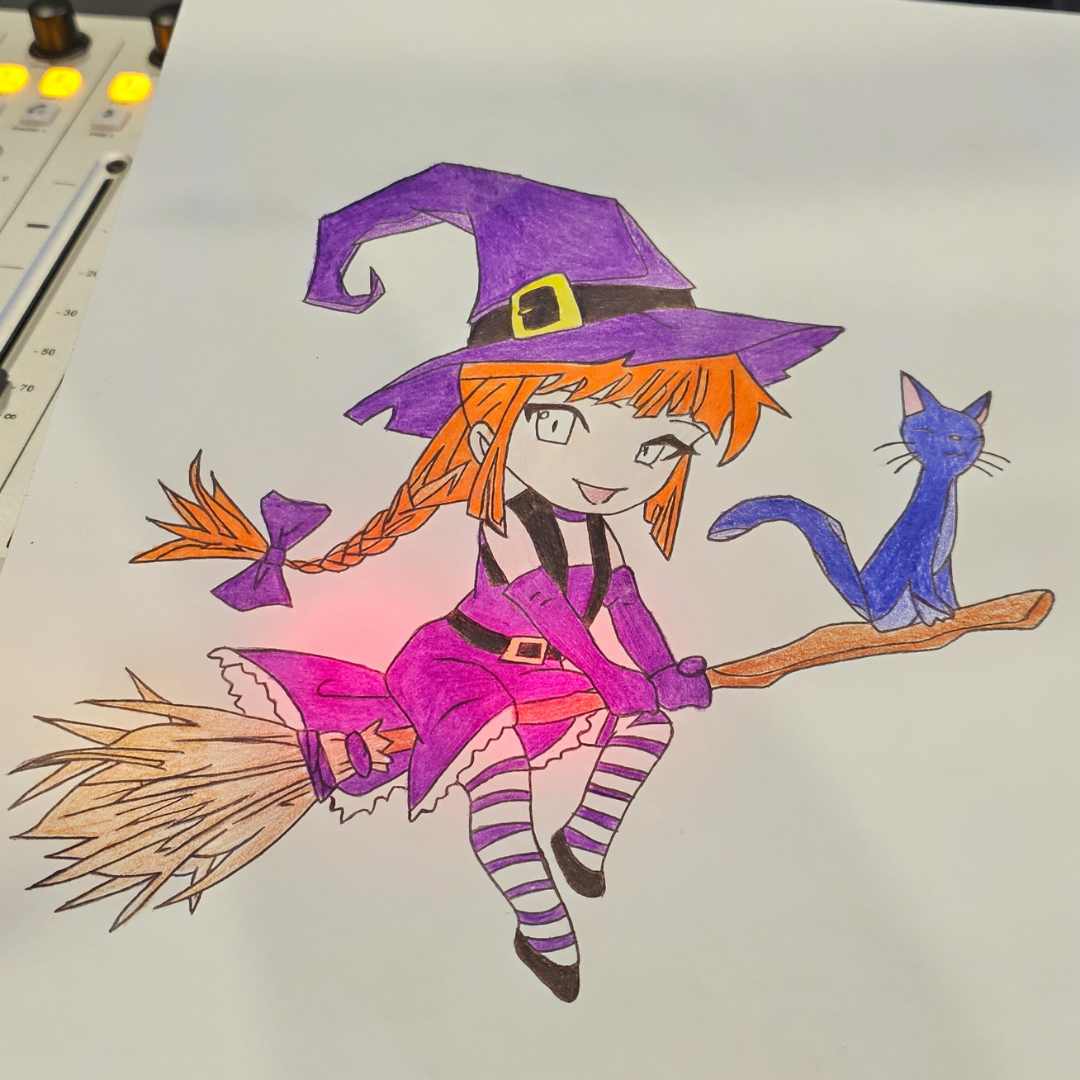 🥳 Youth Week Car Park Gig | 4ZZZ x Visible Ink x Open Doors 🎸
A FREE ALL AGES EVENT!

Sacred Hearts | Special Features | Arni Mac | DJ Nej
From 12PM - 4PM Saturday April 15th at the 4ZZZ Car Park located at 291 St Paul's Terrace, Fortitude Valley.
Come along and celebrate the diversity of Brisbane's youth music scene this school holiday 🤗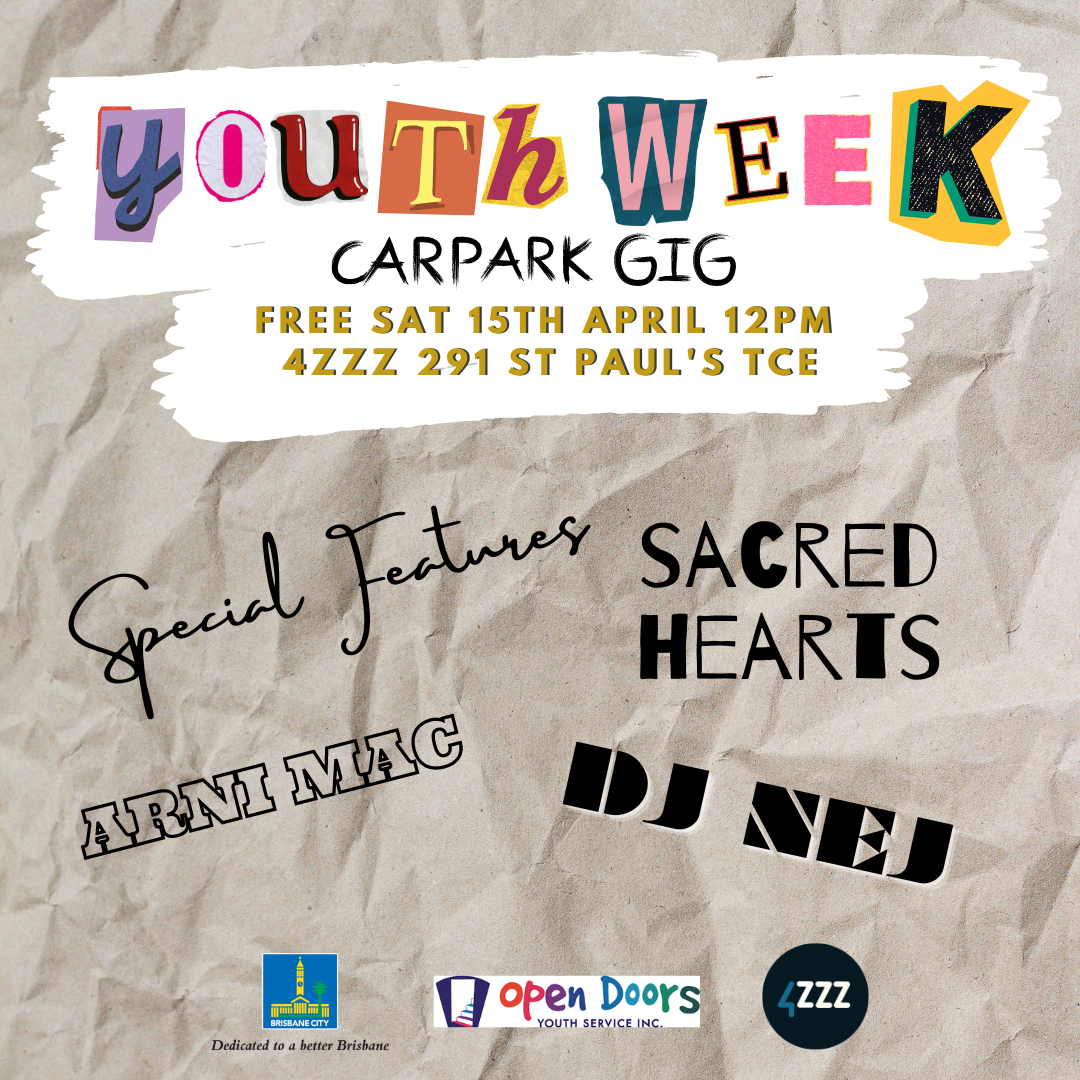 🐝 Eco-radio | Brisbane's Floral Emblem 🌸
Eco-radio talked WAR this week sharing information about their favourite native plants in SEQ. In the bushcare round-up they mentioned that Brisbane City Council (BCC) will close submissions on the 18th of April about adding a native floral plant to the Brisbane Emblem, so if you wanted to add a native species you've only got a few days left to have a say.

🌼 BCC will keep the poinsettia but to add an actual native flower to the mix 🌼
Have your say by completeing a survery and tell them which is your favourite native emblem here.
If you'd like to listen back to Eco Radio you can click here OR if you'd like to listen to tune in you can catch Eco-radio every Wednesday after Know Idea at 12PM.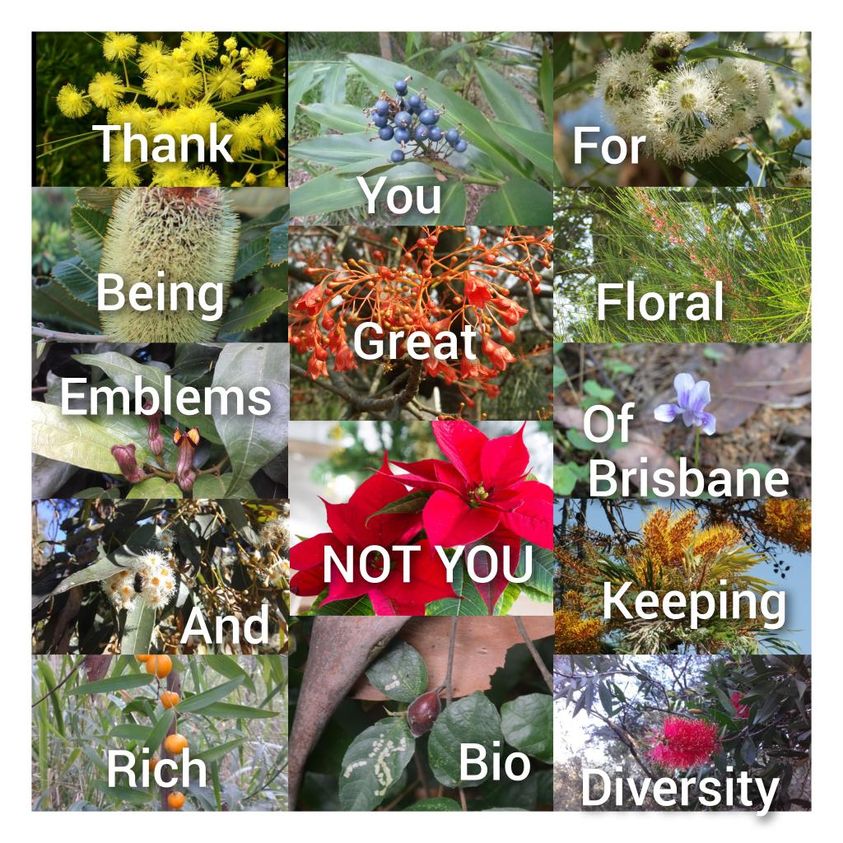 ⚫ Dark Essence | In The Dark ⚫
The DARKEST episode of Dark Essence to date!!!

⚡ There were some big storms over the long weekend and the station lost power, don't worry every is in working order but the block went out at around midnight, a big shout out to our Tech Legend Pat for helping out in the middle of the night to keep them good late night time vibes going. ⚡
A message from Announcer Josh, "Seriously; in my 19 years at 4ZZZ, this is only the second time I've personally had a power outage during my shift (the first was during a graveyard shift called Catastrophic Utopia in 2009-ish). I've had to evacuate during Dark Essence in the past. I've also had to give a police report whilst also broadcasting. But that was the first Dark Essence where everything went down."
Here is a photo of Studio 1 in complete darkness.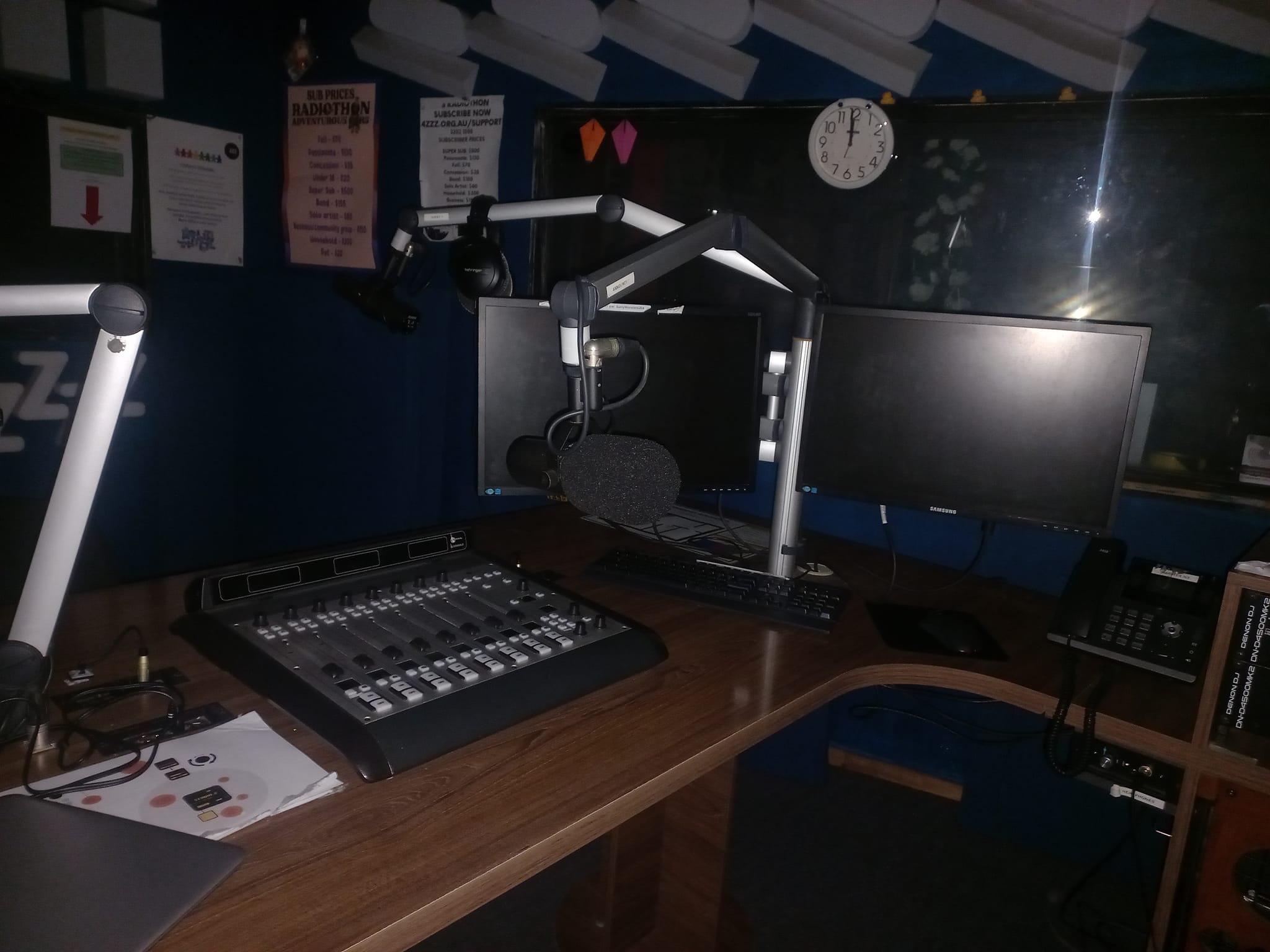 🎶 AOTW | Cuckoo Coco - N.M.F.K. 💀
From the AOTW Committee: "Rapper/Producer Coco may have moved to Mount Isa, but that hasn't stopped the music flow. Anyone tuning into the Zeds the past year would have heard Cuckoo Coco all over the airwaves with albums 'Mood Street Gas Lighting' and 'Twice Exceptional'. Coco also performed both our First Nations Carpark Show and our Sounds Like Community Radio day here at the station in 2022. The new album 'Not Made For Kids' is on trend - that being - Cuckoo Coco is so damn prolific. The album follows themes of indigenous life in today's culture of "Australia" (Victim Of Society, The Quarters), braggadocio rap (Be The Boss, Middle Shift Bullshit) & happiness/love (Great Day, KABUKI). Enjoy."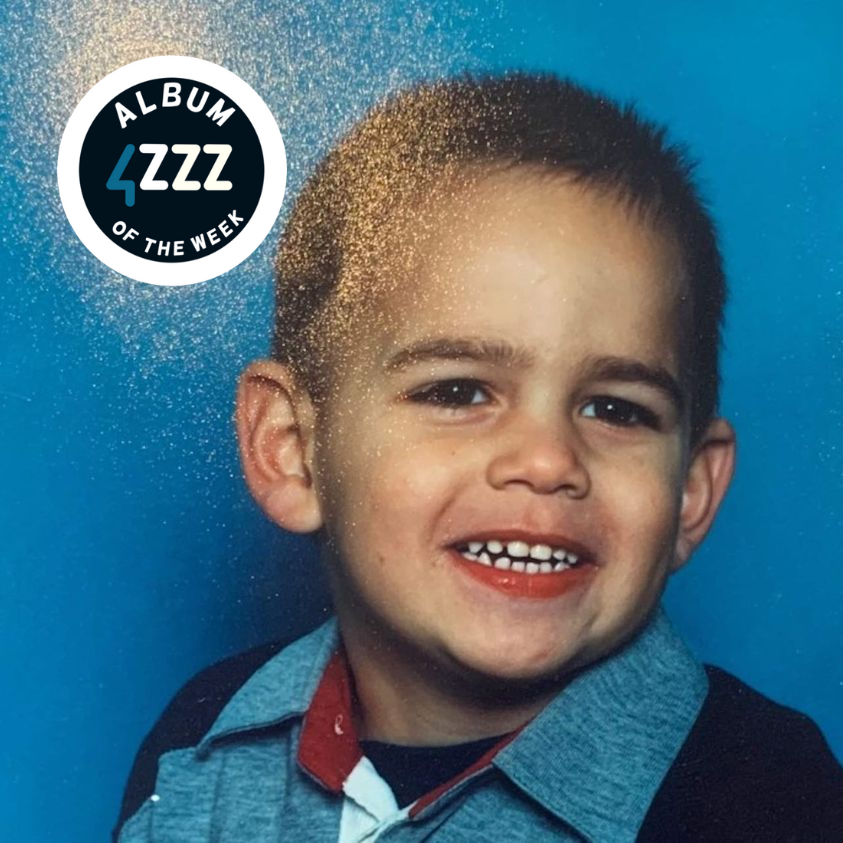 ⚗️ TOP 20 | April 1 - 8 🍄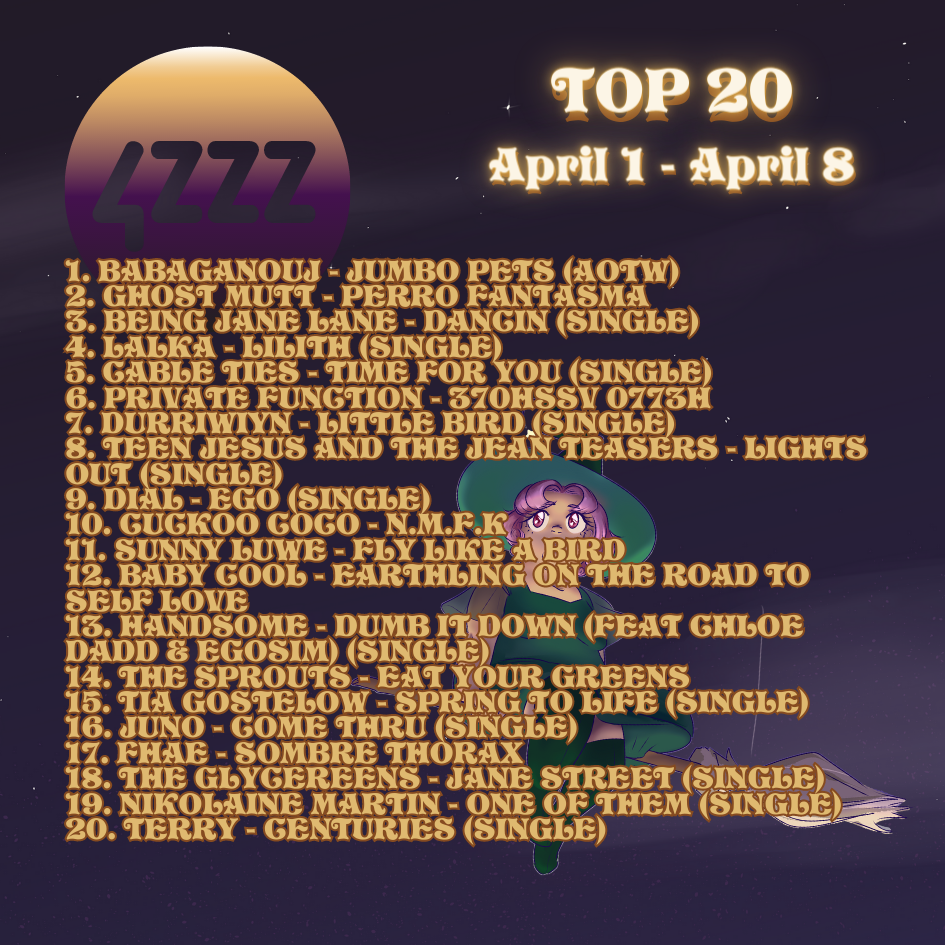 🍄 DOSED 2: THE TRIP OF A LIFETIME | GIVEAWAY 🎁

DOSED 2 is a remarkable journey of transformation and healing.

Centred on one woman's treatment of anxiety through the legal use of magic mushrooms, this intimate doco explores alternative therapies that question everything we think we know about the human body, mind, and spirit.

A loving mother of four is granted the right to legally use magic mushrooms to treat her end-of-life anxiety. She then embarks on a remarkable journey of personal transformation and healing while exploring lesser-known possible cures for cancer, like cannabis oil.

See this enlightening new doco at Dendy Coorparoo on Friday April 21st, followed by a fascinating post-film discussion with guests from the Australian Psychedelic Society. Dendy also have limited sessions of the film on April 23, 24 and 26.
For your chance to win a double pass to the Q&A screening, email giveaways@4ZZZ.org.au with the subject 'DOSED' & your full name & sub number.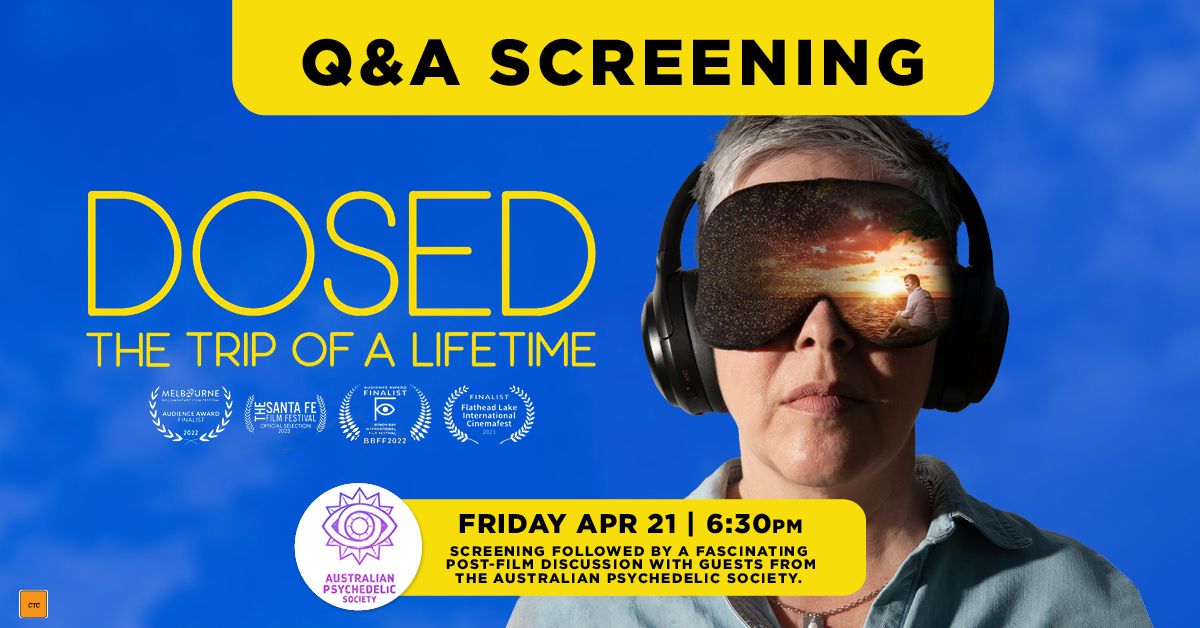 👯‍♀️ Yalla Let's Dance 👯‍♀️

Yalla Collective welcomes you to their first event – Yalla, Let's Dance!
Happening on the 22nd of April 5pm til late at Echo and Bounce. Come together for music, food and cultural connections across SWANA and the Mediterranean. This gathering is in the spirit of sea water, sweat, sun, spice, smoke, wogilicious deliciousness and gods above and below.
Yalla Collective is a newly formed entity composed of hot wogs from the SWANA and Mediterranean diaspora. Drawing from the shared but distinct histories of these regions, community building and cultural exchange will be centred, with a wish to create playful spaces for connections and intimacy.
Yalla, Let's Dance! Will have DJ sets from Bcharre, Sophoula, Chubbz and Nejmere from 4ZZZ's I Spy with food made fresh by Brisbane Lasagna Dealer.
Tickets are available now via Humanitix
Follow them on instagram @yalla.collective for more information.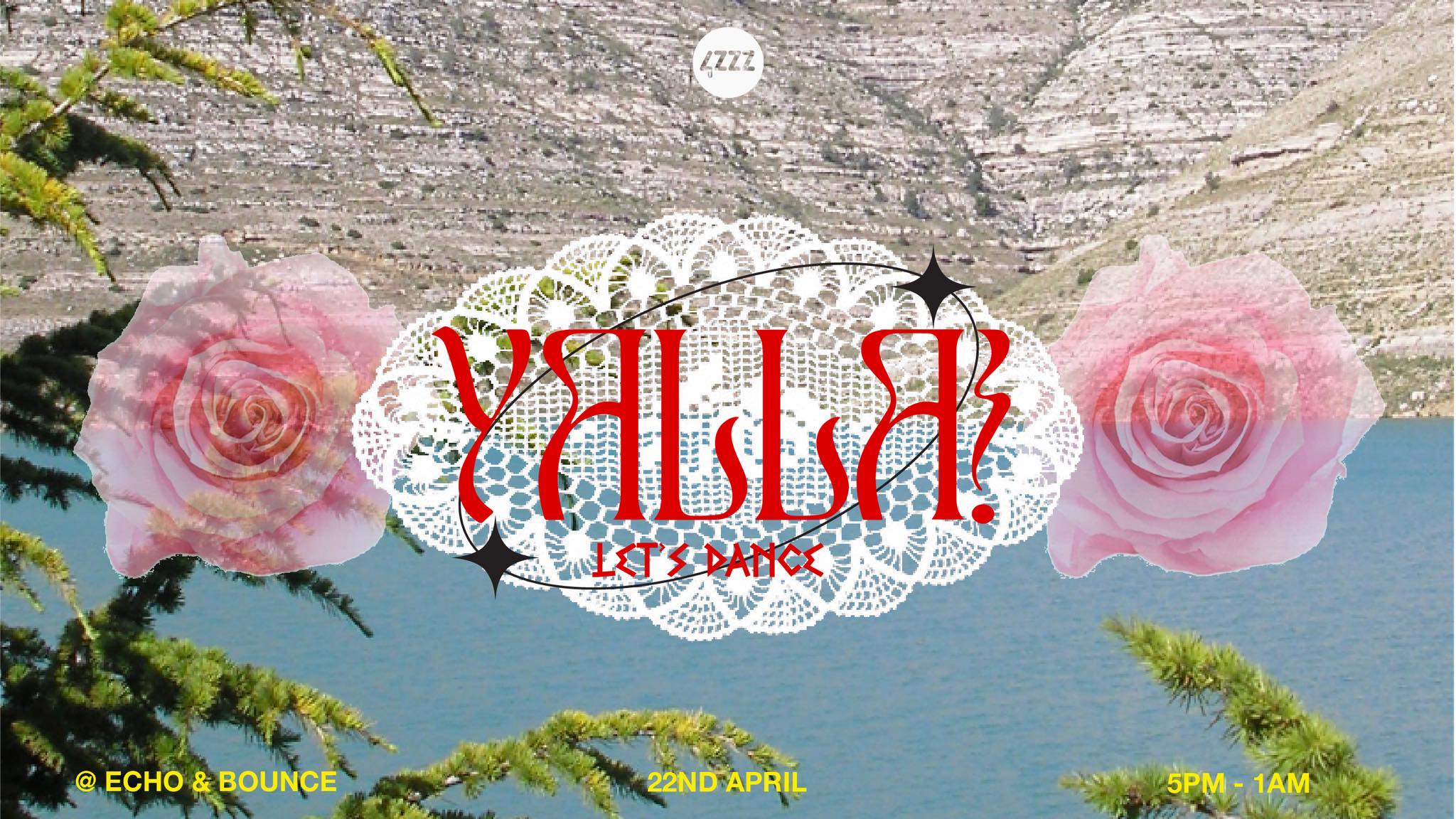 ✍️ Brisbane Writers Festival 📝
In 2023, Brisbane Writers Festival is spinning a rollicking tale of festive entertainment across five days, four nights and more than 100 events.

The plot? Full of twists and turns

The characters? A diverse cast of writers, readers and thinkers coming together to enjoy a lively line-up of panel discussions, salons, special events and more.

From blockbuster bestsellers to literary luminaries and everything in between, BWF 2023 is an unmissable adventure from beginning to end.

Check out the full program & plan your hero's journey now!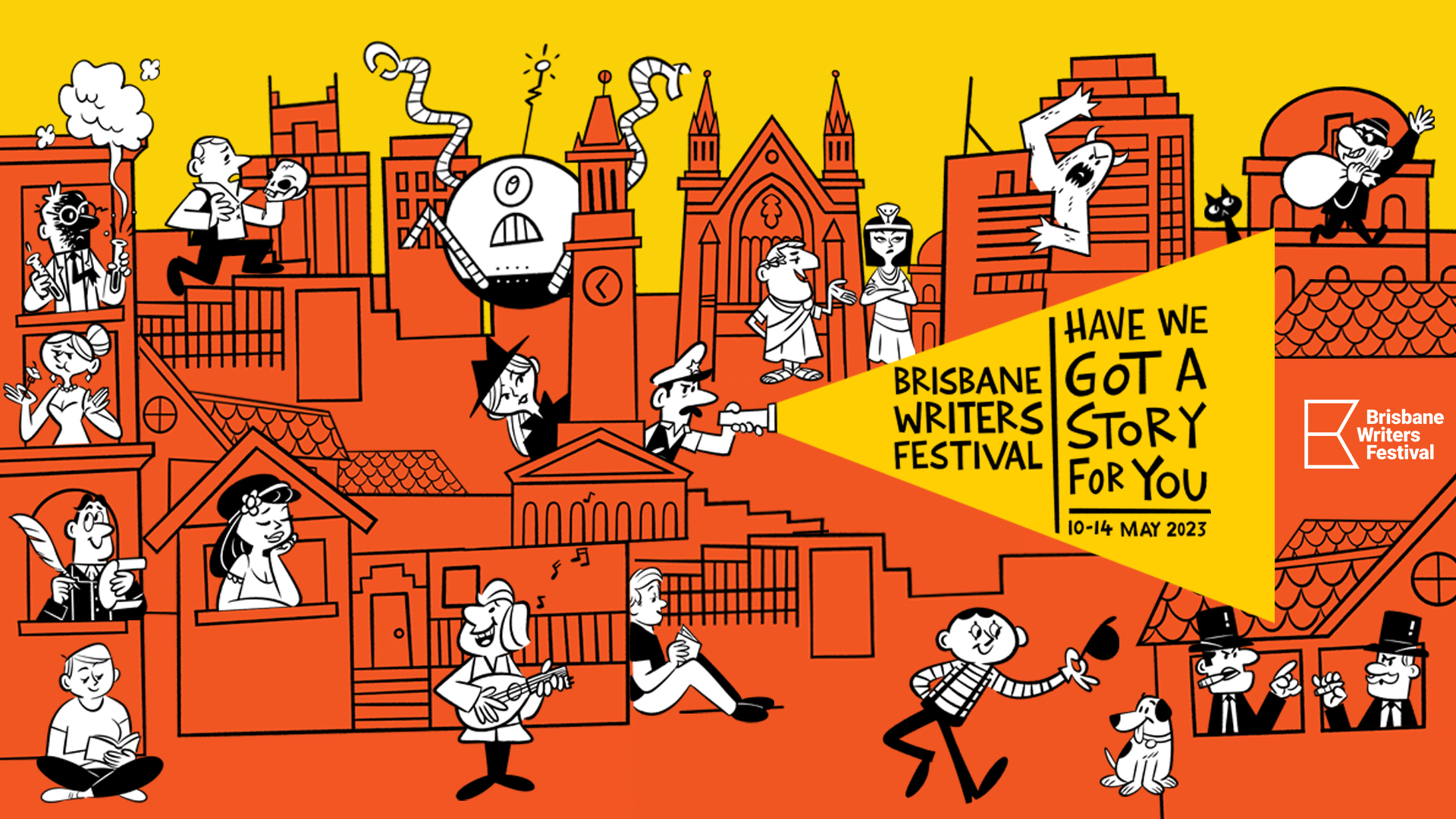 ❓ Zed Trivia | Brisbane Trams ❓
Not that this is completely related to Zed as 'trivia' however I thought it was a cool fact worth sharing about our amazing city.
On this day, April 13th 1969 was the last day trams operated in Brisbane that was over 50 years ago now 😱 We previously had trams for 85 years up until that point. There were trams up Queen Street as well as crossing over the old Victoria Bridge.

Here are some photos thanks to BCC.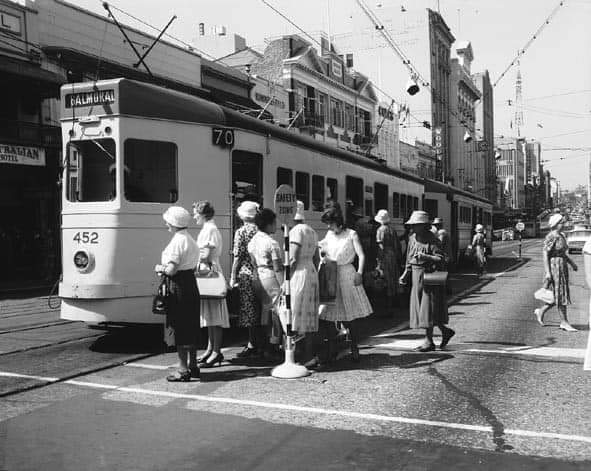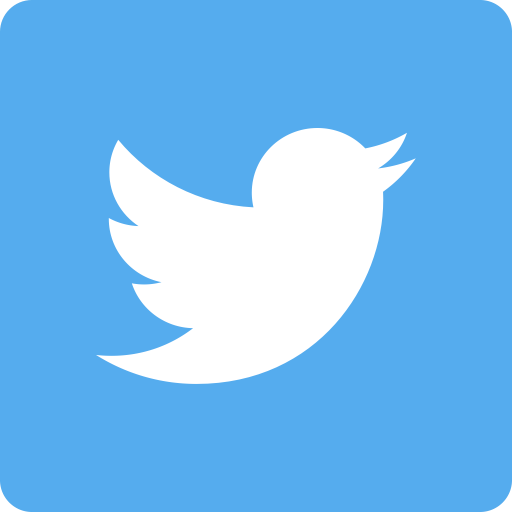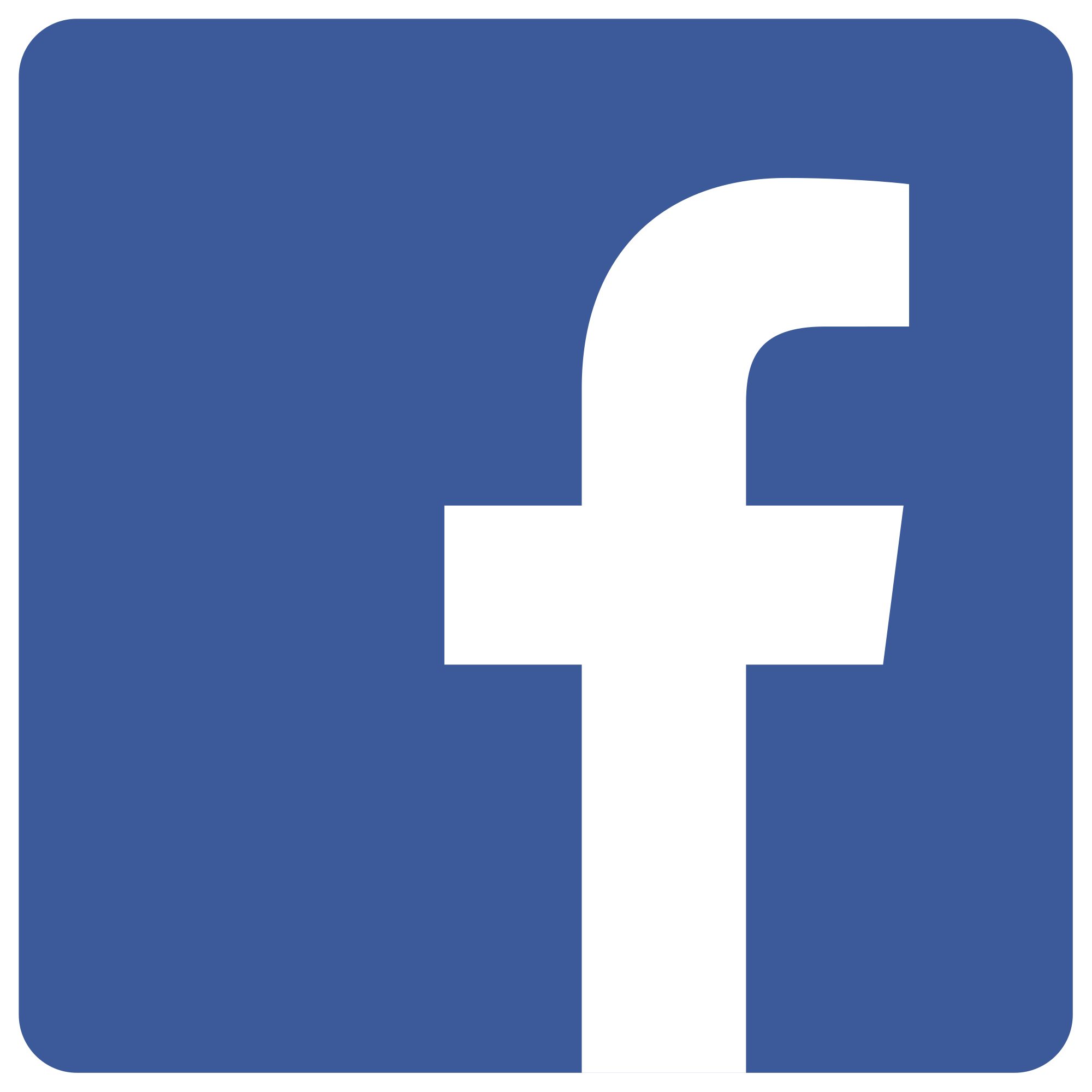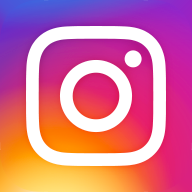 That's all for this week, be sure to check your inbox next week for the next instalment of Zedletter!
For more information hit 4zzz.org.au

[[UNSUBSCRIBE]]
Respectfully acknowledging the traditional owners and custodians of the country on which we live and that their sovereignty over this land was never ceded.