☀️ FIRST NATIONS CAR PARK GIG ☀️
4ZZZ Presents this Saturday 24th June from 1PM
FREE & ALL AGES at 291 St Paul's Tce, Fortitude Valley
Come down this Saturday and warm your soul with our 2023 First Nations Car Park Gig!
There will be heaps to join in on, whether that be a station tour, listening to community discussions, dancing to incredible artists, OR learning about First Nation pathways to getting involved with 4ZZZ 🤘
SUNNY LUWE | SACHÉM | CLOE TERARE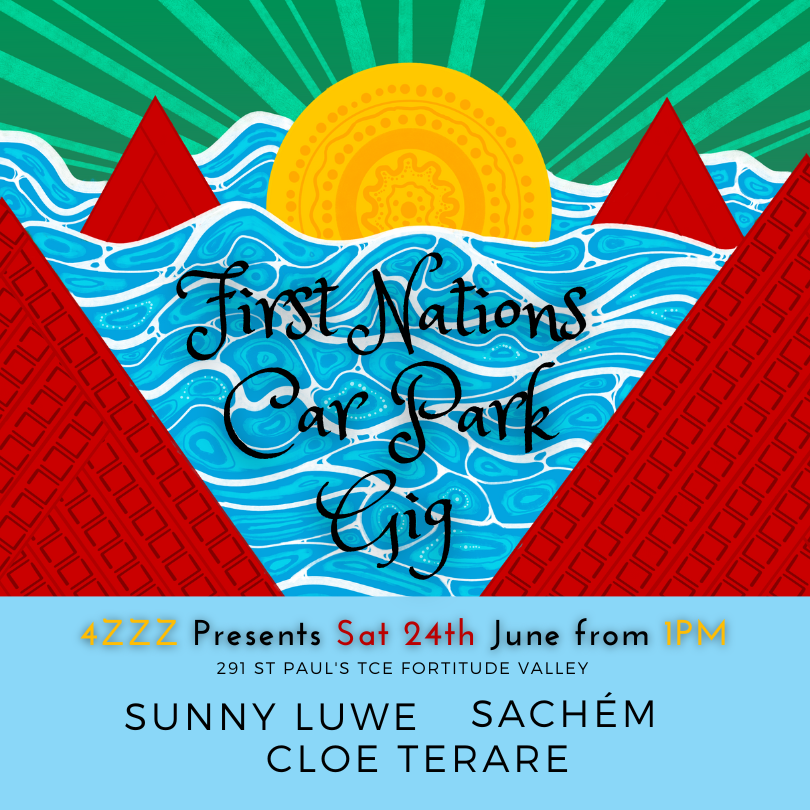 Original Murri Time T-Shirts ARE BACK
Celebrate the rich history of Indigenous music with the Original 4ZZZ Murri Time T-shirt designed by Anunakiu in 1983!
This T-shirt commemorates the formation of 4ZZZ's Murri Hour Radio in 1983 and pays homage to Indigenous musicians of the time, whose songs were messages of struggles and triumphs of the Brisbane Blacks.
This T-shirt represents an important historical milestone in the Brisbane Blacks community, from 1982 to the 1990s, so don't pass on this opportunity to honor history!

PURCHASE HERE
or at our merch stall this Saturday at our First Nations Car Park Gig

All proceeds go towards training and development of First Nations folk at 4ZZZ.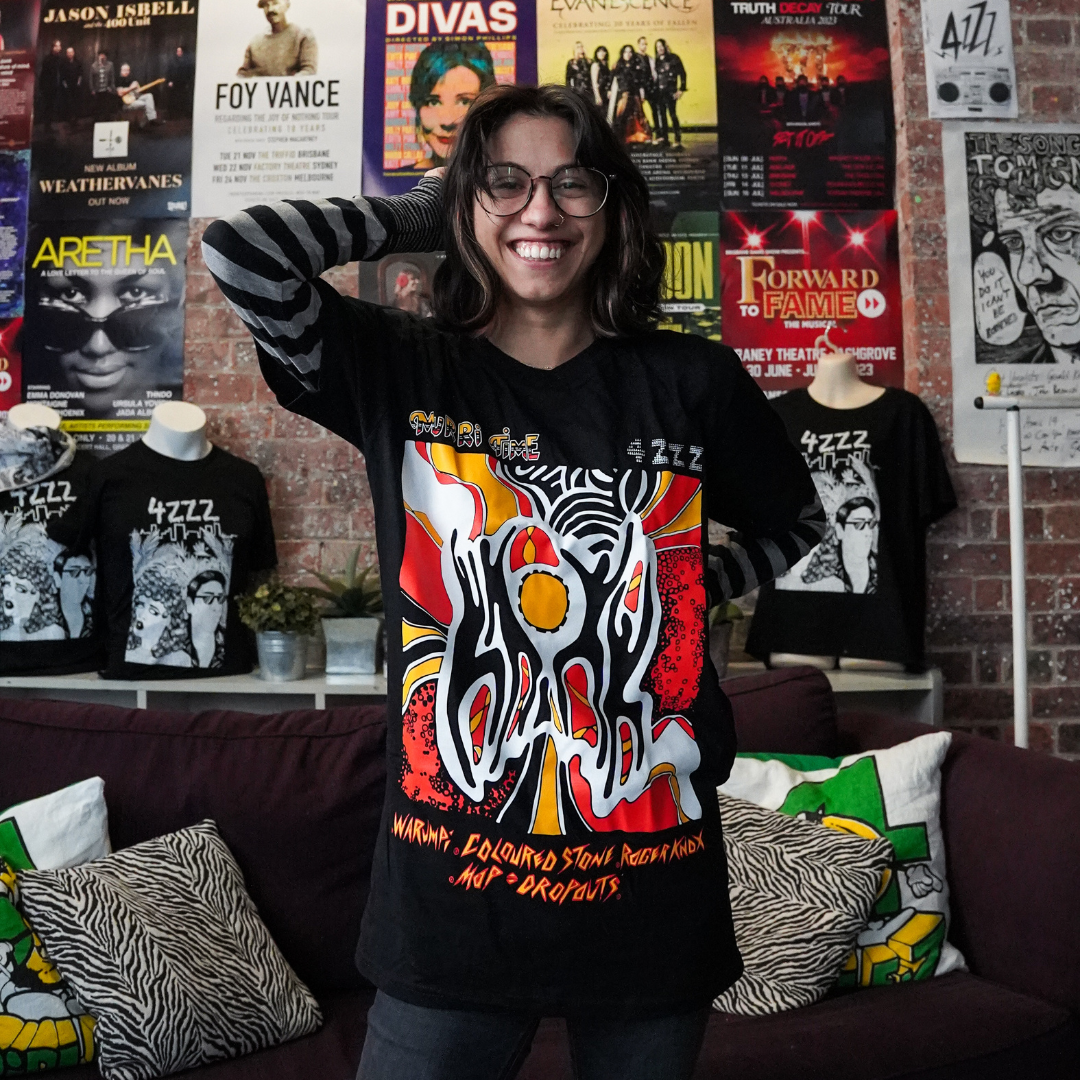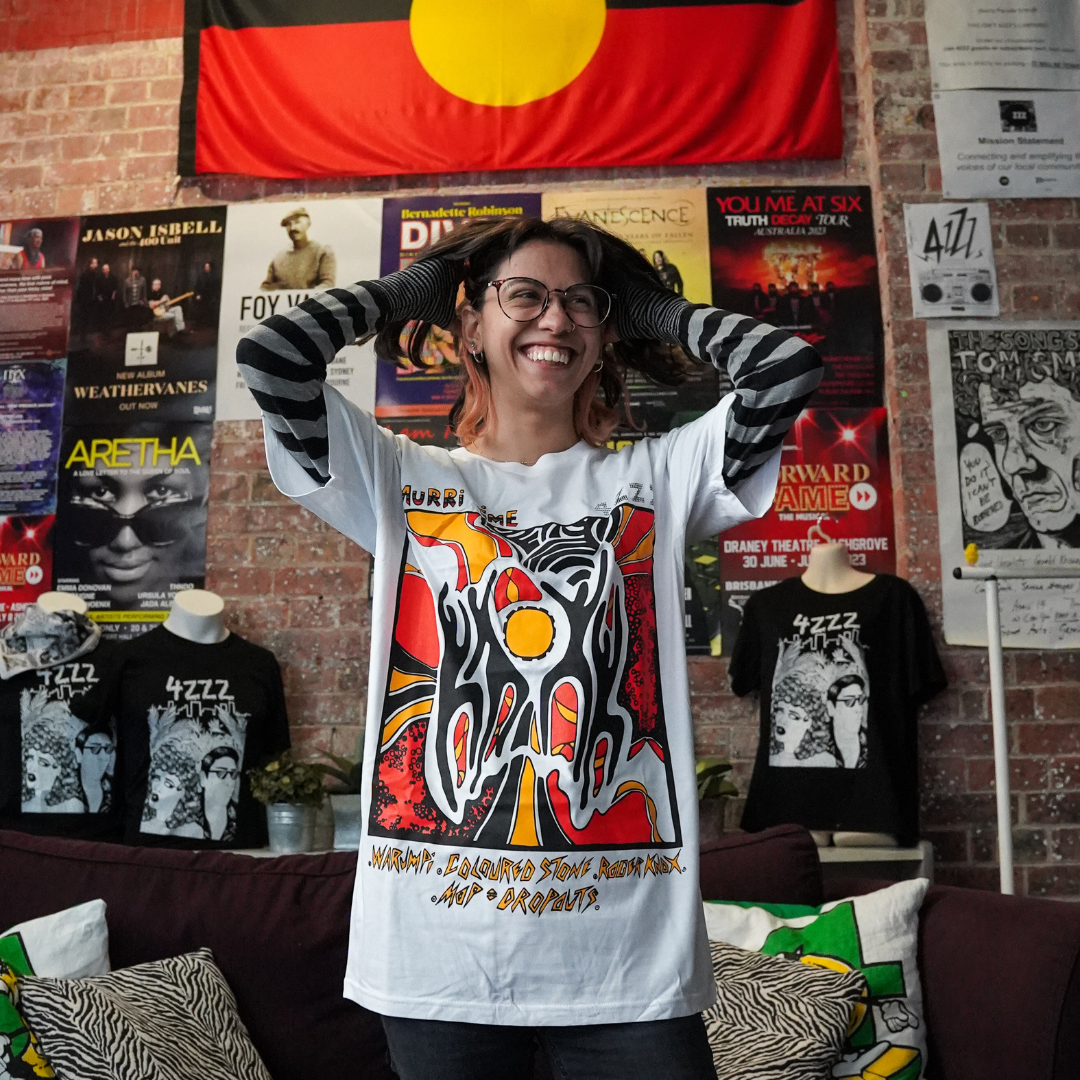 ✊🏽 Indigi-Briz | The Progressive NO ✊🏽
Tune in to Indigi-Briz' latest episode to hear the lone voice in Parliament speaking for the "progressive No" to constitutional recognition and The Voice to Parliament - Gunnai, Gunditjmara, Djab Wurrung woman Lidia Thorpe.
You can hear the speech in the first part of the show. Then stay tuned for local acts playing at the 4ZZZ First Nations carpark gig on Saturday 24th June.
"Indigi-Briz features music from up and coming Indigenous talent, traditional vibes, interviews and yarns, deadly discussions, community announcements and alternative news, what's on, what's wombah."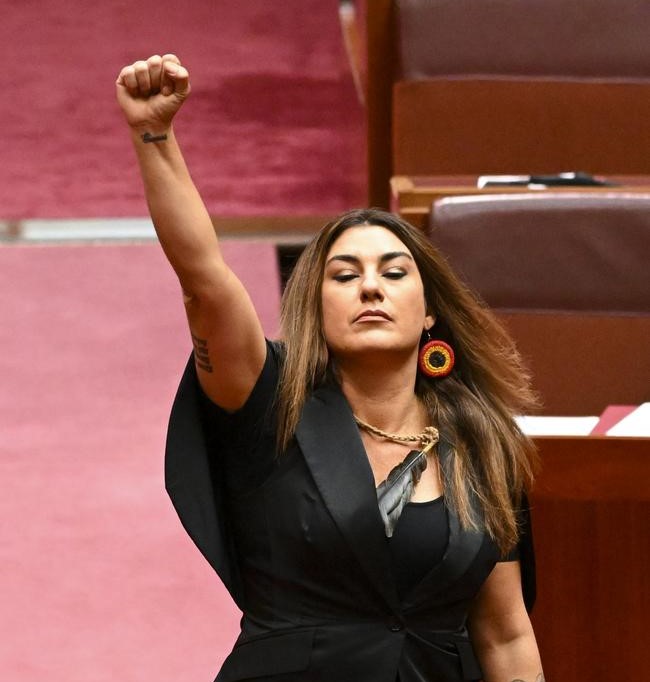 🌱 Bush Care Round Up | 21st - 28th June 🌱
They've been pullin' out weeds and puttin' up trees; it's time for The Bush Care Round-up!

Big thanks to Dave from Eco Radio for helping curate this list.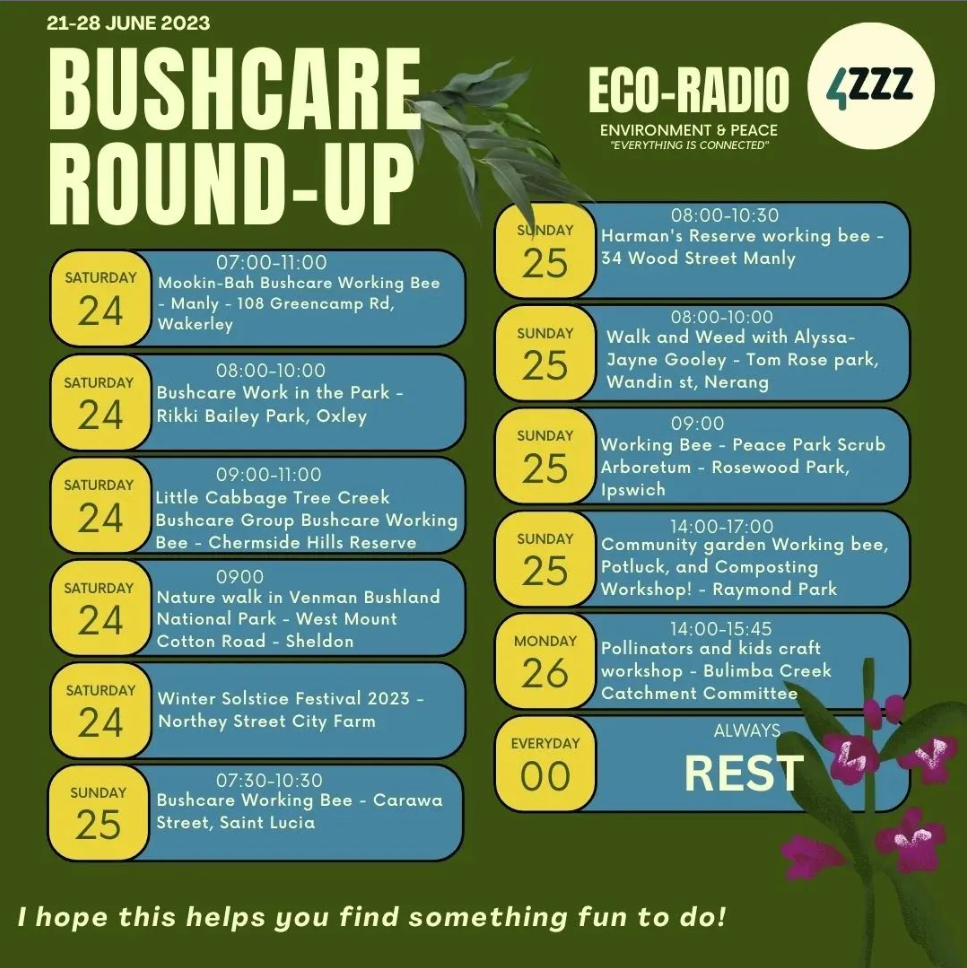 🎶 4ZZZ Reviews | DZ Deathrays - R.I.F.F. 🎶
Looking for new music? We've got you covered. This week, Andrea Peirce reports on DZ Deathrays new album R.I.F.F.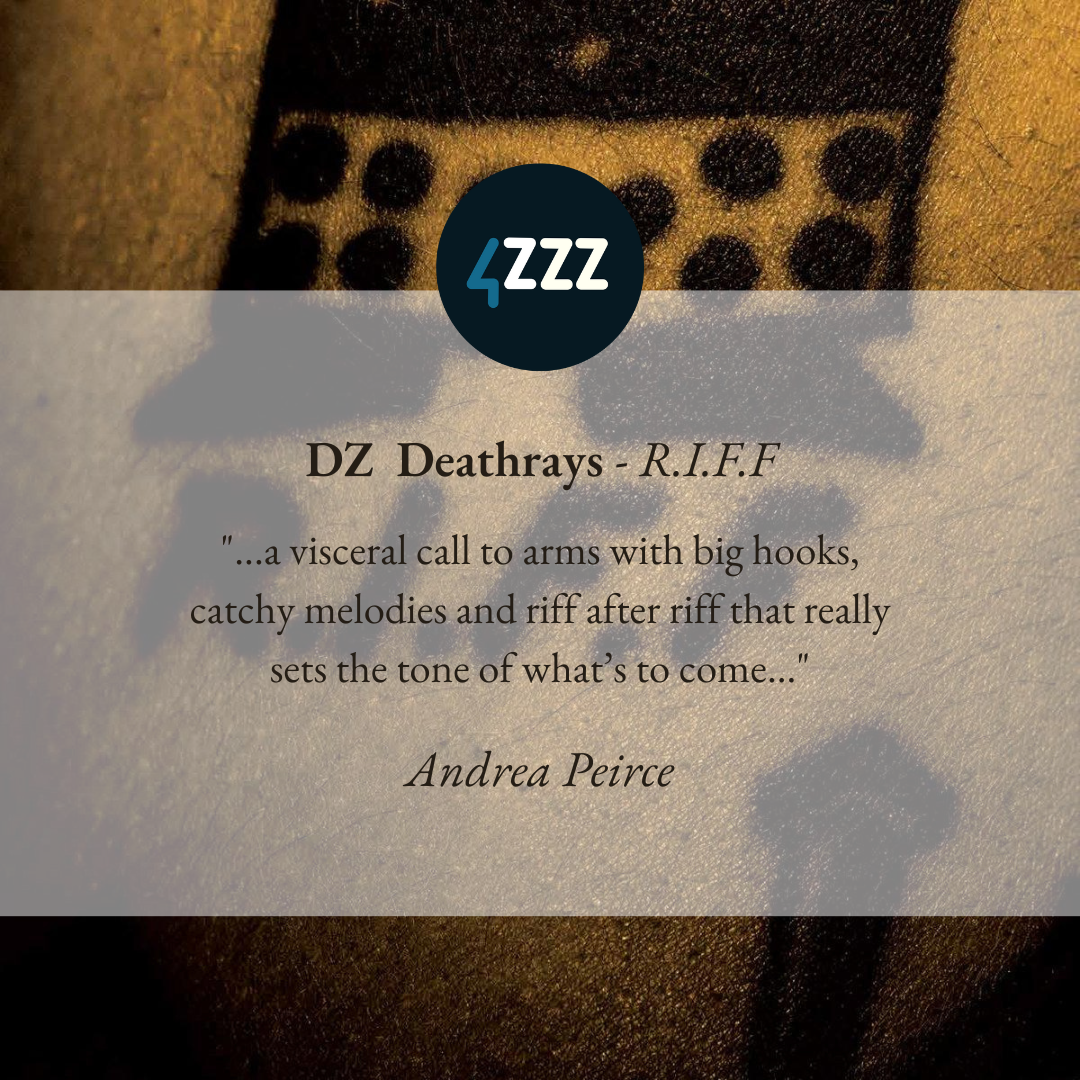 🎶 AOTW | Sarah Stockholm - Trace of Humanity 🎶
From the AOTW Committee - "Sarah Stockholm has cemented herself on the 4ZZZ airwaves these past several weeks with standout singles 'Soldiers' and 'Wonder'. They're just two singles off a fantastic long player Sarah has just released called 'Trace of Humanity'. Announcers have been digging it; we think you will too. Especially after this dark and danceable electro-pop intertwines it's way into your playlists. As always, we love supporting local artists such as Sarah, and this release fits nicely alongside another recent local artist we spotlighted, Moreton. Enjoy."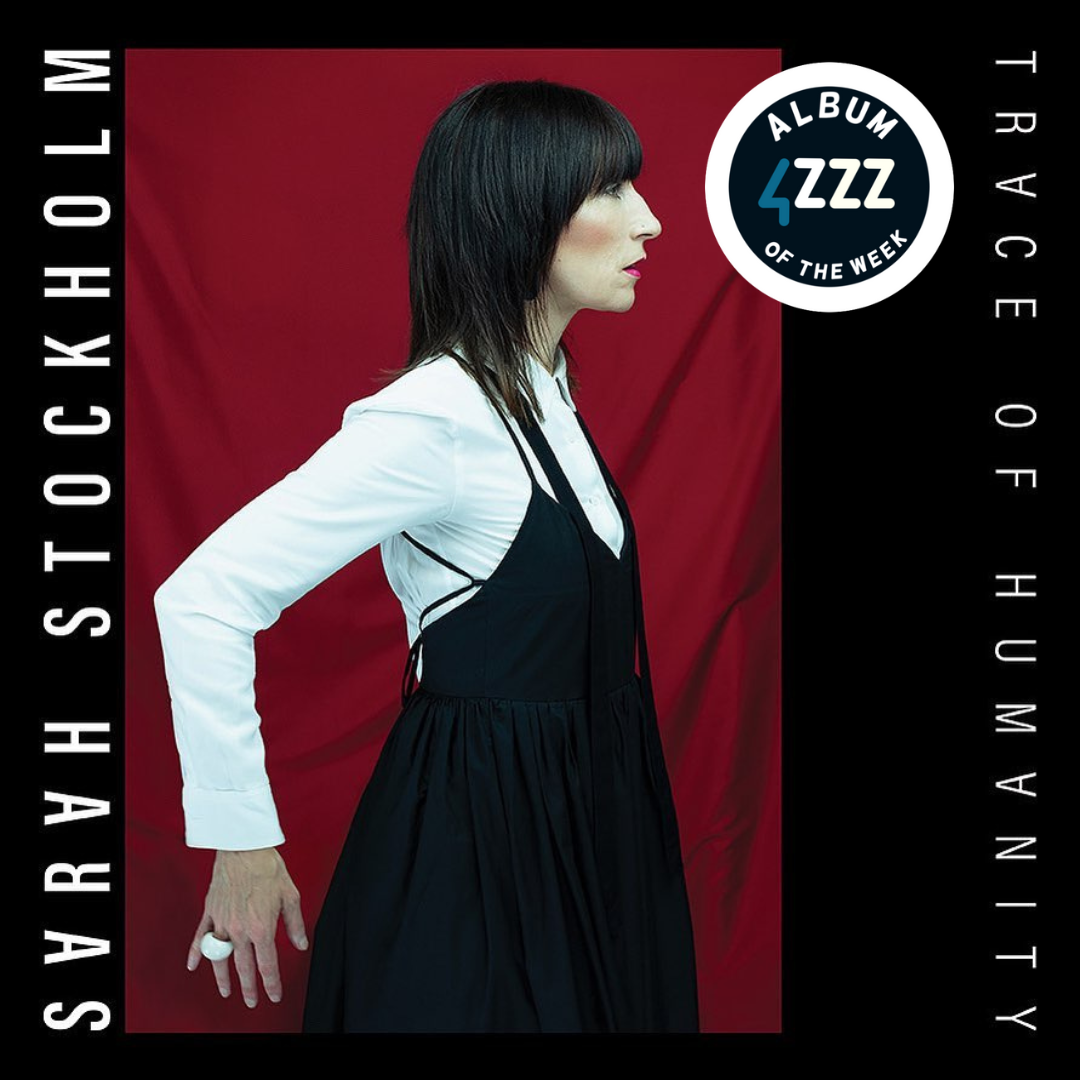 🥁 TOP 20 | June 10th - June 17th 🥁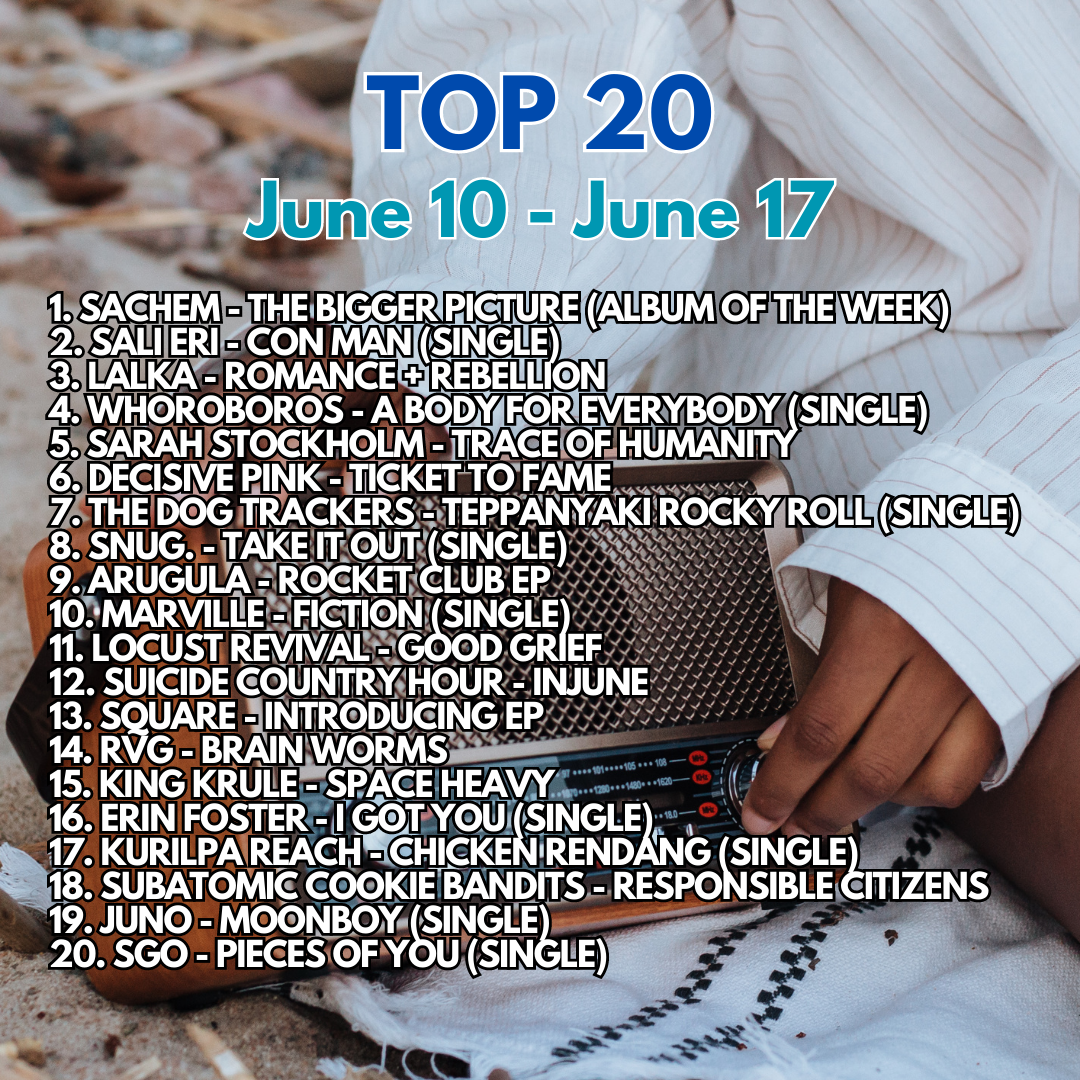 🟠 Django Django 🟠
To mark the release of their fifth studio album Off Planet, beloved British band Django Django will be heading to Australia this October, stopping by The Triffid on October 4!

TICKETS HERE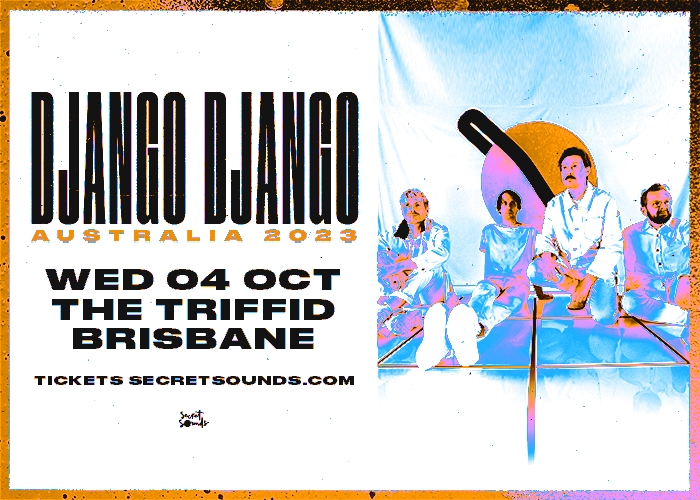 🟤 60 Years of Damaged Goods 🟤

And the people yelled for an encore.
But all they ate was the cake.
Then one lone unit yelled "sixty".
And the people flocked to this unit.
Sixty years of damage you say.
Let us part the way and dust such salutations from the icing.
It was never about the unit - it was only ever for units.
And the night was open to repixelate upon.
Send them back.
Your kiss so sweet.
The change will do you good.
Oh so outro.
A night of laughing with friends.
We are all just soxels in a scream.
Join us like a loose unit.
4ZZZ and consume present:
60 YEARS OF DAMAGED GOODS
SATURDAY 29 JULY
FELONS BARREL HALL

TICKETS HERE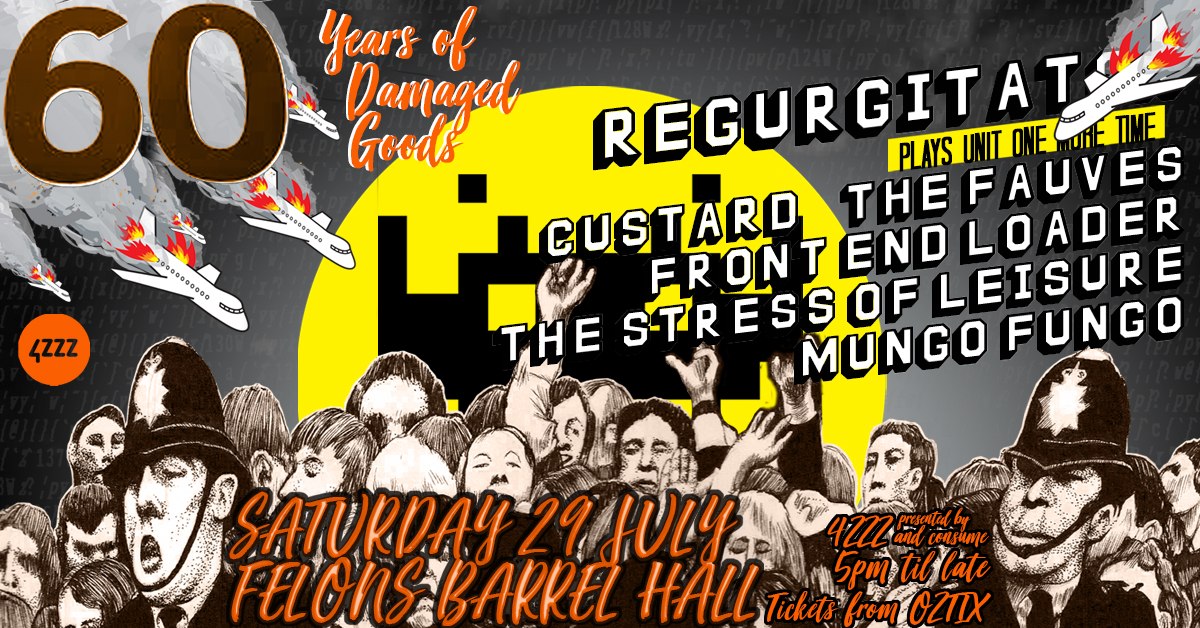 🟢 Newstead Roots Weekender 🟢
Brisbane Winter Sessions, Coopers Brewery, and The Triffid Present:
NEWSTEAD ROOTS WEEKENDER 2023!
A celebration of Roots, Blues & Soul Music over two electrifying days!
Prepare to groove as the legendary Salmonella Dub Soundsystem returns to Australia on day one of the Festival, igniting the dance floor with their pulsating beats. And brace yourself for an explosive finale on day two, headlined by Brisbane's very own powerhouse party band, Fat Picnic!
Two Stages
18 Live Acts
5 Soulful DJs
Yummy Food

Guests of all ages are welcome in the Garden until 5 pm, after which the festivities turn exclusively to 18+. So gather your friends and get ready to immerse yourself in the spellbinding rhythms and soulful melodies of the Newstead Roots Weekender 2023!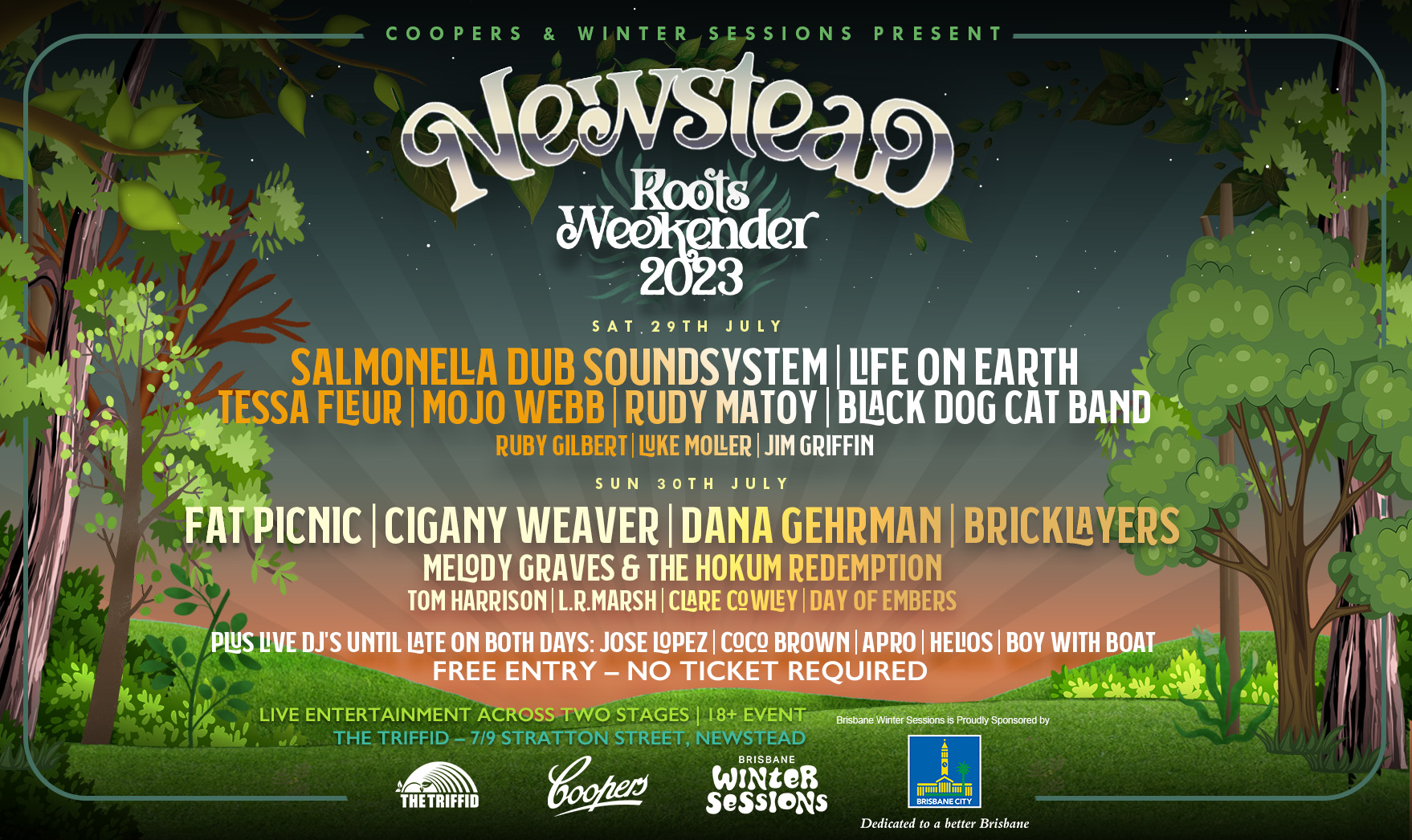 ❓ Zed Trivia - Zed World Market Day 1993 ❓
ZED WORLD MARKET DAY On the 30th of October 1993, in Albert Park
This was the Nazi one. There were rumours beforehand of a neo-fascist group coming to the Market Day to cause trouble. After all, when you don't have a fence anyone can come. As evening fell, it was Hateman who inadvertently baited the young Nazis into action, waving swastikas, chanting and seigheiling at the band.
Cool under pressure, singer Lance Sinclair teased them - "This is a Skrewdriver cover" and embarrassed them in front of the rest of the crowd. Lance said, "we just kept insulting them, blowing kisses at them, either hug­ging them or punching them in the head. It was more blatant at this show. 98% of our crowd were anti-fas­cist, and we were playing at an event where there was a certain communal spirit, but it was the first sign that I'd seen of the kind of ugliness that we'd see at large events like the Big Day Out."
Zooerastia's singer Vicki took the direct approach with the Nazis abusing them with some colourful but always articulate language. Zooerastia were one of Quan Yeomans's bands before Regurgitator. He played some blis­tering slap bass in this amazing little combo who only released one cassette in their short time together, and cre­ated a whole genre completely of their own - punk-funk.

If you'd like some more Zed Trivia why don't you listen to the 4ZZZ Podcast - From A to Triple Z.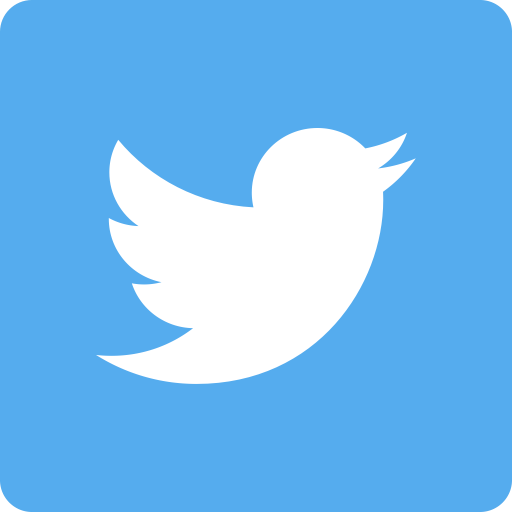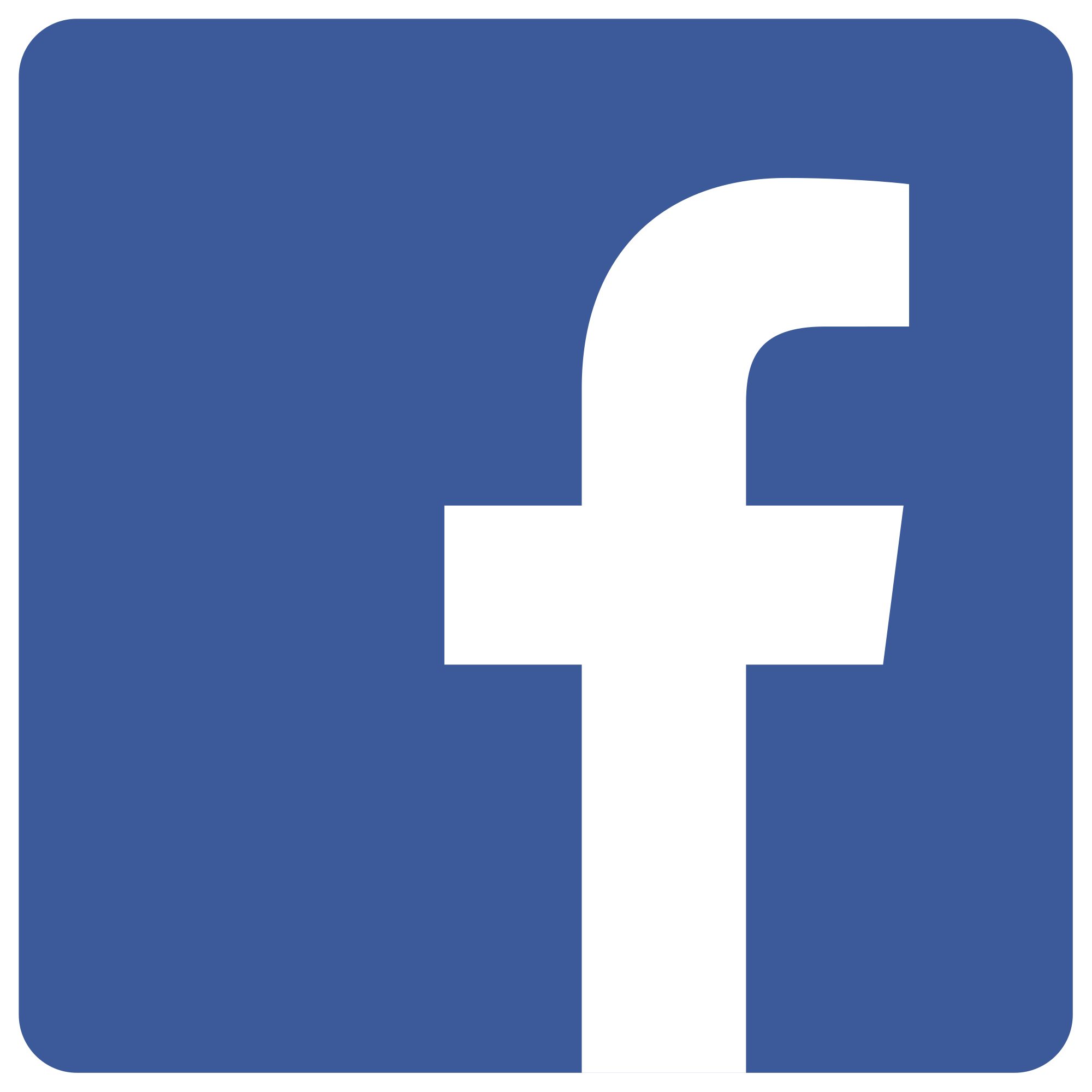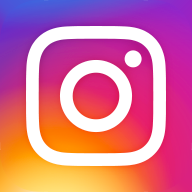 That's all for this week, be sure to check your inbox next week for the next instalment of Zedletter!
For more information hit 4zzz.org.au

[[UNSUBSCRIBE]]
Respectfully acknowledging the traditional owners and custodians of the country on which we live and that their sovereignty over this land was never ceded.